I've been a vegetarian for most of my traveling life and admit there have been times when I have turned down a meal or invitation to someone's home because I knew I wouldn't be able to eat vegetarian. I realize these are missed opportunities. But it was (and still is) important to me to stick to the diet I adhere to at home so I can feel good while I'm traveling and so that I don't throw my body into some sort of food coma after meals when I'm supposed to be enjoying myself.
I'd say that I'm healthier than I have ever been in my life. I'm running upwards of 10 miles at a time and training for a marathon (the Honolulu in December – whoo hoo!). I'm hiking pretty regularly around Seattle as well as when I travel.
But 40% of staying in shape for me is about the exercise and 60% has to do with what I eat.
Having said that, when I'm traveling, it's SO easy for me to eat unhealthily. Even with a vegetarian diet, I want to sample as much of the local (veg-friendly) food as possible. I find this to be an excellent way to get to know the culture. Not only do I get to experience their food but by taking cooking classes I also learn how the food is prepared and with exactly what spices.
It takes discipline and willpower to experience a region's local food and not pack on at least a few pounds. But it's possible. As a matter of fact, I usually end up a pound or two lighter when I get home from a trip because I am so diligent about what I eat (moreso than at home, apparently).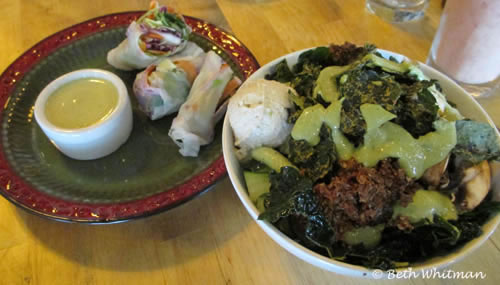 For the Leisure Traveler
I spend a lot of time traveling. I'm off somewhere nearly every month and last fall I was away from home for nine weeks straight. While my travels combine leisure and work, there's always an element of "vacation" in what I do. (I know, I have the best job on the planet!)
For those times when you're purely on vacation or away to just relax, it's the hardest time to really eat well. You're on vacation after all! It's a retreat from daily life and work. It's time to relax. Why NOT have that tasty bread before your meal? Why wouldn't you finish dinner with a piece of chocolate cake? And an afternoon of Mai Tai's should be on everyone's to-do list during that trip to Hawaii, right?
Mmmm, no.
It's all these little extras that end up making you feel tired during your trip and a few pounds heavier and more cranky when you return home. The instant gratification that comes from these little "treats" is wonderful in the moment, but you end up paying for it afterward. You're lethargic, unmotivated, foggy, prone to sleeping in (and missing that fantastic sunrise) and have forgotten about all those sights you wanted to see.
I know. I've been there.
As an example, I went wine tasting for an afternoon in Napa a number of years ago. After visiting a winery or two, all I wanted to do was take a nap. I dunno. Maybe you find that fun. But for me it wasn't. I should have rented a bicycle and peddled around the beautiful rolling hills so that I could then enjoy a nice dinner out (and then perhaps a glass of wine).
I'm fortunate living in Seattle because the vegetarian (and even vegan) way of life is easily accepted. But I'm always amazed, with the exception of Asian countries, how difficult it is to find restaurants that offer vegetarian meals beyond a pasta dish.
When I look at a menu, what I've learned to do is ask myself before I order a side of fries or chocolate cake, "How is this going to make me feel in 30 minutes?" If the answer has something to do with a nap, I look for an alternative.
This doesn't mean I can't enjoy the local food at my destination. It just means I've become more thoughtful in what I order and that I watch the actual amount of food I'm eating. While I do hate wasting food, which can easily happen on a trip when it's not possible to take home a doggy bag, I've given myself permission not to eat everything on my plate.
For the Business Traveler
For business travelers, sticking to a healthy diet can be even more difficult. You're likely on someone else's schedule and beholden to a carb-filled buffet breakfast. Eating out with your peers means some silent pressure to eat like everyone else. This can mean a meal of steak and baked potatoes for many. Order soup and salad and everyone will think there's something wrong with you.
This is when you have to be even stronger in your resolve to eat well.
Tips for eating better on the road:
If your hotel room has a refrigerator, buy some yogurt or other healthy snacks to keep on hand. I usually travel with protein powder and for breakfast I mix it into yogurt that I've either purchased or have found at the hotel restaurant.
Research healthy restaurants before you arrive. Look at menus and choose a restaurant based on where you can get the healthiest meal. I often use Happy Cow to search for vegetarian restaurants at my destination.
Before ordering, remember to ask yourself how you're going to feel 20 or 30 minutes after eating. Food is supposed to GIVE you energy, not take it away. If  you think you're going to crash, order something else.
Order a couple of appetizers as your main meal rather than an entree. This will give you a chance to sample a couple of things and not have a lot of leftovers.
Rather than relying on (very) unhealthy airport or plane food, bring a bag of almonds. These are loaded with calories so ration these out and eat only about 1/4 cup at a time (170 calories).
Apples also travel well. Pick up the travel size packets of Justin's Almond Butter and enjoy your apple with that.
Bottom line? There's no excuse for not eating well when you're traveling. It's all about choices. And it's just a matter of a little discipline to make the right choices.
Be Bold,
Beth
Do you read blogs in Feedly? Click here to add this blog to your Feedly reader.