In Buddhism, we're taught to practice right thoughts, right speech, right action. Meaning, be kind in all that you think, say and do.
I'm not perfect when it comes to this–even the most learned monks will admit to some failures–but these tenets are often on my mind. And never more so than when I read negative comments posted on blog posts or Facebook. Life has enough challenges, why add to it by promoting more negativity to your community and the world?
Last week, a campaign went viral that encourages people to take photos of travelers who are purportedly boarding flights with too many carry-on items or carry-on items that don't fit within the airline's size or weight policy. I won't link to the blog post because I refuse to give the website additional direct publicity but I will say that the hashtag is #CarryOnShame and that the website is a major news outlet with an online travel column.
What is #CarryOnShame?
Basically, this movement encourages people to take photos of travelers whom they think are carrying too much onto a flight. You're to send in these photos so they can be published on the blog and you're asked to post them on Twitter and Instagram.
This movement got some added publicity when it aired on a morning show. I noticed it because it came up in my Facebook feed with a lot of "high fives" and "good jobs" to the author (whom I know and have a lot of respect for).
But this movement really got my back up.
Now that most airlines charge for checked baggage, we've all tried to get creative in how and how much we carry on a flight in order to avoid those additional fees. And it's true that not all airlines enforce their own policies, allowing too much carry-on luggage from some individuals, sometimes leaving late-boarding passengers with no room in the overhead bin for their small bag or personal item.
While I appreciate the attention the campaign might bring to the airlines in addressing the issue–the fact that people are carrying on more because they don't want to be hit with hidden or not so hidden fees from the airlines–the way this is being promoted is shameful in itself and downright mean.
Carol Cain, who writes at Girl Gone Travel and is my fellow Expedia Viewfinder colleague, put it well on a Facebook post when she said, "We struggle to protect our children from online bullying and shaming and yet, here are grown adults taking their First World grievances to social media to shame and "expose" others who inconvenience their comfort and lifestyle."
In a Facebook post from another one of my Expedia Viewfinder colleagues, Matt Villano of Wandering Pod says, "Nobody is going to change the system by prancing around this issue like a high-school prankster. If you want change, set an example, practice kindness, take a stand, and advocate constructively."
I know it's easy to get riled up about an issue and want to participate in it but there are more constructive ways to address a problem than by encouraging people to look for the bad behavior in others. After all, no one's perfect. Imagine encouraging people to take photos of us changing lanes on the highway if we neglect to use our turn indicator. Or asking them to snap pics when we don't put money in a parking meter.
How to Do It Right
Let me pause here to tell you a short story. Stiv Wilson is a bit of a hero of mine. A number of years ago, he left his job at a travel magazine to pursue a cause. He wanted to see the elimination of plastics to the point that they would no longer be found in huge trash piles (gyres) in the ocean.
Stiv didn't run out to popular beaches and take photos of people leaving behind plastic water bottles nor did he encourage other people to do so. Instead, he joined 5 Gyres, an organization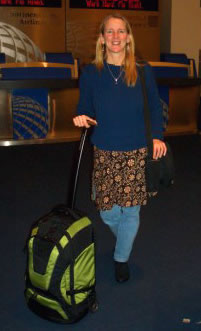 dedicated to ensuring that one day these trash vortexes no longer exist.
No shaming involved.
There are lots of ways to affect change. Encouraging people to shame others into better behavior through social media is neither productive nor helpful in making this world a better place.
As travelers, we venture out into the world and represent our communities, cities and country. We have a responsibility to be kind and compassionate toward others–especially those whom we don't know because we can't know what their circumstances are.
If you're bothered by the amount of luggage people carry on to a plane, contact the airline or talk to a flight attendant or gate agent. You could even get in touch with the folks at Consumer Traveler. Their job is to advocate on behalf of travelers–and that means you.
Passive-aggressive use of social media only promotes more hatred and we could all use a little less of that.
Travel Well,
Beth
Related links:
Clothes to Pack for Long-term Travel
My Go-to Packing List