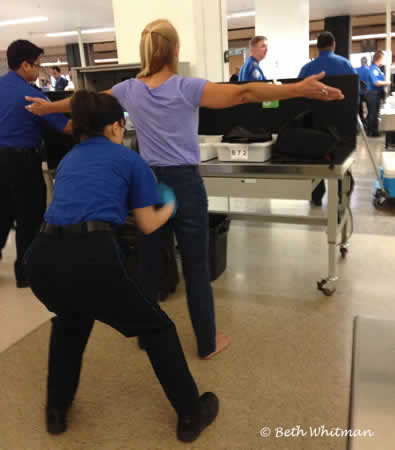 In the last couple of months, I've been surprised to hear from friends and acquaintances that they didn't know they could opt out of going through scanners at the airport. I'm talking about the backscatter and millimeter wave scanners. Those big machines you step into, raise your arms, and wait for a picture to be taken of you. Simultaneously someone in a room somewhere is trying to determine whether or not you're concealing a bomb under your clothes.
Stick with me here for a second.
Backscatter scanners use non-ionizing electromagnetic radiation. Their long-term health effects are unknown and it's suggested that children and pregnant women not go through these. The millimeter wave scanners use electromagnetic radiation and, supposedly, are safe(r) than the backscatter scanners. Though even with these, no long-term studies have been done as to their effect on our health.
The government rushed to get the backscatter scanners into airports and, then, after both health and privacy concerns were raised, replaced the 250 units earlier this year with the millimeter wave scanners at a cost of 45 million dollars. That's $45,000,000. That's a lot of freakin' dough.
I've written about this topic numerous times. Here's why I think it's important to opt out of the TSA scanners. But obviously it's important to keep this info in front of people because some still don't realize they can opt opt.
My greatest concern is that we'll discover in another 10 years the ill-effect that these will have had on our health. Travelers aside, consider all those poor TSA agents working around these? I mean, even your dental hygienist won't stay in the room when taking a "harmless" x-ray of your teeth.
Yes, as a frequent traveler, I might be a bit more sensitive to this than the average person, but I have a hard time with anything that's unsafe for children and pregnant women. I can't quite see how such a thing would then be OK for me even though I'm neither of those :-).
Here's how to opt out of the TSA scanners…
1. You'll want to completely empty your pockets and remove your belt and put these items in a tray to go through the x-ray machine.
2. When you get to the TSA agent who will wave you through the scanner, simply say "I'd like to opt out."
3. They will call for an assist (either female or male, depending on your gender).
4. You'll wait, hopefully with the ability to watch your items as they will have gone through the x-ray machine and be on the other side.
5. Your "assist" will then ask if you want a private screening or public. I've learned that the public one generally takes less time, mostly because they have to find another assist to accompany you into a private room.
6. The assist will take your things from the x-ray belt, carry them to an area where you can keep an eye on them and then begin the pat down.
7. These agents don't want to be there any more than you do and I have found most of them to be nice. But I have had some really cranky ones that seem a bit angry and even one that bordered on fondling me (I took her name).
8. Once they've given you the pat down, they'll test for residue on their gloves to see if they can find anything unusual. You're then on your way.
You may be asked why you're opting out and you have no obligation to tell them why. There have been times when I've been interrogated by the TSA agent and asked three or four times why I'm opting out. I simply say it's for personal reasons.
Please, just be an informed traveler. Walk through the scanner if you truly don't care. But know that you have the OPTion to opt out.
Travel Well,
Beth