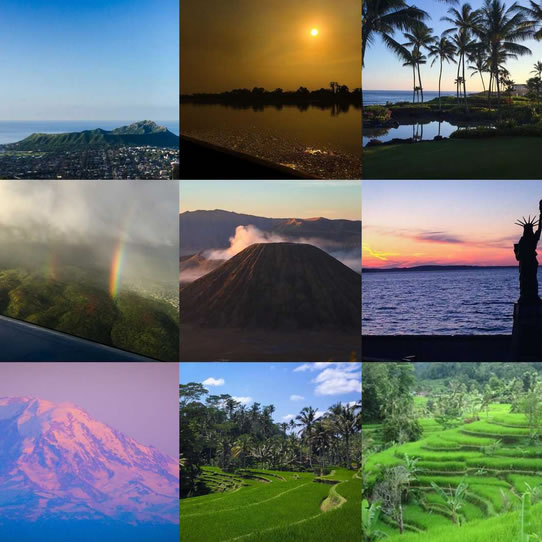 I'm a bit late this year on my New Year's Resolutions and my look back at 2015.
For a quick overview, this is my Instagram best 9 <<. If you're on Instagram, you can follow me at Wandergal.
I blame my tardiness on the fact that I was traveling for most of December. And while I definitely had some downtime–like sitting poolside at the Grand Hyatt Kauai–it was difficult making that poolside time reflective. After all, when I was sitting in 80 degree sunshine watching the palm trees sway, it didn't exactly feel like the end of the year or like it was time to look back at what I accomplished in 2015.
Instead, I discovered how easy it was to conduct business poolside. With my iPhone as my computer, I answered emails and worked on docs in Google Drive and Dropbox.
The realization that I could get so much done while sunbathing had Jon and I seriously contemplating a move to Hawaii. (See my Facebook post with that lively discussion.)
Ultimately, we decided we'd move forward with our house remodel and Hawaii would have to wait. But hopefully not for long!
All this is to say that I've given myself a grace period in terms of catching up on resolutions and planning for 2016. While I will technically be working this week (there's plenty on my to-do list to keep me busy), I'm going to take some extra time to finish up my yearly planning and resolution making.
But, before the planning, I wanted to look back at 2015:
Travel
.
It goes without saying that my year was filled with fantastical travels. This included trips to Chicago, Salt Lake City, Cabo, San Francisco, Portland, Maui, New Orleans, Santa Fe, London, Papua New Guinea, Java and Bali, Napa, Honolulu, Kauai, New Jersey and Cleveland.
Most of these trips I knew about at the start of the year. Others were a bit more impromptu. All were awesome. And I just received Platinum status on Delta as a result of all the travel. Whoo hoo!
Business
.
I think I find myself in the company of a lot of people whose businesses have done well in the past couple of years as the economy has made a bit of a comeback. As a result, I came to the conclusion in 2015 that I didn't have to say yes to every project that came my way. This is a theme I've heard from many people. Truthfully, I feel fortunate to be in this position.
As you know, I run a couple of businesses–specifically, overseeing both Wanderlust and Lipstick and WanderTours. In addition, I started the WanderWorld Foundation (website launching soon!).
I've always been a firm believer in multiple streams of income so that if one was affected (by a down economy, for example), hopefully the others would pick up the slack. I do still believe that. But with one additional caveat. You gotta make sure you're heart is in each of those streams.
When you say yes to something because you're lured in by the money or you feel guilty saying no, you'll pay for it in other ways. I realized I had several projects on my plate that became weights holding me back from doing things that would allow me to soar. In some cases because they were too time consuming. In other cases because the relationships were toxic.
I've shed a couple of those projects and will be making more changes in 2016 that will get me and my passions back on track. Details coming soon but just suffice it to say that I'm very excited about the year ahead!
Health
.
I think it's fair to say that I've never been healthier. I trained for most of the year and then ran the Honolulu Marathon on December 13. I also got really hooked on the Rich Roll Podcast. Rich hosts guests each week in which they discuss a variety of topics including health, fitness, nutrition, entrepreneurship and spirituality. I never cease to learn at least one brilliant thing
from his podcasts.
Not only has this podcast inspired me to believe I can do most anything in terms of my fitness, it's also caused me to re-examine my eating habits. I now eat mostly plant-based/vegan. Yes, I've been vegetarian for ages. But now, with the exception of a few indulgences here and there (pizza in New Jersey, for example), I've cut out dairy, cheese and eggs.
I think becoming a mostly plant-based eater has helped me become a much better athlete, but you don't have to be athletic to reap the rewards of a healthier diet!

Life lessons
.
I lost a couple of friends this year. Well, they're still here on the planet, but they are no longer my friends. In looking back, frankly, I'm not sure they ever were.
I won't rehash the details but, in short, it had to do with a lie and then a disappearance. Or a dismissal. In other words, I'm not sure they disappeared or I was dismissed. The result was the same. I have no contact with them.
This hurt my heart. These were people I considered friends. And I'm scratching my head as to how I could have been so wrong about people whom I knew well enough to invite into my home for celebrations and parties.
There's always something to be learned from even painful experiences. In this case, it's made me very aware of how I treat others. I hope I can always maintain enough maturity to never hurt friends (or even foes) in this way. So, thank you, former friends, for that life lesson.
I did experience another kind of pain in late 2015. The death of a colleague.
Though I didn't know him well, Keli'i Brown, the Director of Public Relations and Promotions of the Maui Visitors & Convention Bureau, passed away just before Christmas. I had spent some time with Keli'i when I was on Maui early in 2015. I had also met him several times when he visited Seattle with his team. Keli'i always had a big smile on this face and was always laughing, singing and trying to make other people feel good.
His death really bummed me out. I haven't been able to understand how someone who brought so much joy to people could just be gone. And way too soon.
Keli'i was a huge presence in Hawaii and will be greatly missed. For those who knew Keli'i far better than I, my heart goes out to you.
_____
Overall, it was a great year. But in retrospect, I have to admit that I probably allowed others to have control over some things in my life (projects, scheduling, travel, etc.) that I should have been more on top of. Sometimes we get into a groove and forget to question things. Or we take our foot off the gas because things are going so well.
In 2016, I look forward to being in the driver's seat with the pedal to the metal 🙂

Be Bold,
Beth
Want to stay up-to-date on all things Wanderlust? Follow me on Facebook, Twitter or RSS/email.