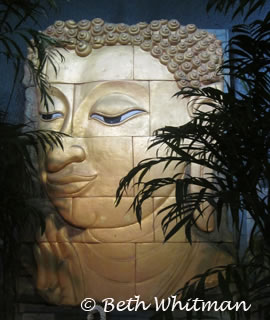 I just went back to the post I wrote around this time last year. I had completely forgotten about it and found it really refreshing.
I had approached 2014 with few expectations. I had some New Year's Resolutions and in looking over the list on New Year's Day this year, I realized I accomplished many of them. I ate more salads, unveiled a new logo (Be Bold), hiked in New Mexico, Colorado and on Mt. Rainier, Jon and I buttoned up some estate planning AND we completed the Snowman Trek.
Interestingly enough, few of the resolutions/goals I listed about my business were ones I completed. Despite that, perhaps because of that, the business grew and opportunities were presented to me that I could not have imagined. Here were just a few:
I was invited to the White House to attend a summit on study abroad for young people.
Jon and I went to Bali early in the year to research a tour which subsequently sold out within weeks.
In addition to my partnership with Expedia (for whom I write on their Viewfinder blog), I entered into a partnership with Enterprise and continued a wonderful relationship with trivago.
I wasn't planning on it, but I had so much interest in the Snowman Trek that I decided to do it again in 2016. Already that tour is nearly sold out with just one spot left.
The downside to all this "success" is that I feel like I've been missing out on some contemplative time. Time to just sit, relax and soak up my surroundings, whether I'm on the road or at home.
I recently listened to a Ted Talk by Pico Iyer. He talked about his decision to move to Japan so that he could, basically, get out of the rat race. In that talk he says, "…sometimes making a living and making a life point in opposite directions."
I've been very busy making a living and no doubt it's led to an incredible life. And while Jon and I have spent more time together this year than I think we ever have (25 days of trekking to name just one example), I often get the sense that I don't have time to slow down.
So with that, mostly my 2015 New Year's Resolutions/goals center around peeling off the extraneous stuff so there's more room for the truly important and more room for living a life. Here's what I'm thinking…
News – I'd like to think I can give up listening to and reading the news completely. (We'll have to see how this goes.) For an avid NPR listener, this is a big deal. I haven't listened to or read anything in the news in a week. I know a plane went missing in Indonesia recently. I know the Seahawks are in the playoffs (they are, right?). But pretty much beyond that, I'm not dialed in. And I don't miss it.
Facebook – While I love keeping up with family and friends on Facebook, I loathe the negativity and nasty comments that get posted. This kind of thing is just what makes me Unfollow, Unfriend or, in extreme cases, Block people. Instead, I've been checking in directly on people's personal pages to see what they are up to. I know I'm going to miss a lot of what's going on with people. But the truly important stuff? I'll hear about that from other sources. And if I don't hear about something? I likely didn't need to know anyway.
West Seattle Blog – I do love and get a lot of local information from our neighborhood micro-blog. But when I read it, I can't help but also read the comments. And when I spy a post with more than 50 comments, I'm right on it because I know there's a juicy debate going on. But, like the posts and comments I often see on Facebook, the negative comments that get posted to the WSB do nothing but bum me out. I can't figure out why people need to be so mean to each other. I've spoken to several West Seattleites who've told me they never read the comments but I just don't have that kind of self-discipline. 🙂
iPhone – Since returning from my nine weeks of travel this fall, I've been practicing not being so tied to my iPhone. My first step was deleting apps that weren't truly useful (such as the game, DOTS). And when I'm out running errands and perhaps standing in line at the store, I now restrain myself from scrolling through my email and Facebook. Instead, I talk to people in line! I have found there are whole stretches of time (sometimes more than an hour or two – gasp!) when I don't check my email. I don't even THINK about it. That's huge, don't you think?
So, in addition to the usual (eat better, train for a marathon, cook more) 2015 for me will be the year of less mental clutter and more real life. I'm looking forward to more reading, more meditation and more cups of tea.
I don't feel the need to follow in Pico Iyer's footsteps and move to a quieter society such as Japan, but I do have big windows in my living room that look out to Mt. Rainier. This year I expect to spend more time enjoying the view.
And you? What's in store for your 2015?
Be Bold,
Beth
Do you read blogs in Feedly? Click here to add this blog to your Feedly reader.