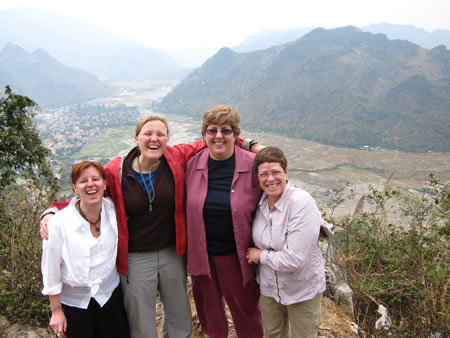 A few weeks ago, I was a guest on This Week in Travel (TWIT), a weekly podcast hosted by travel veterans Chris Christensen, Jen Leo and Gary Arndt. Our chat veered over to a press release that had just come out stating women's tours were not selling as well as mixed travel. The fact that I disagree with that statement is beside the point.
What was more interesting to me was the response from Jen Leo, a long-time traveler, travel writer and the keynote blogger for the LA Times Daily Travel & Deals blog. Jen and I have known each other online for years and have met up at numerous travel events around the country. While I don't know her well, I have tremendous respect for her and consider her a friend in that on-line-world kind of way. I think the feeling is mutual 🙂
Jen is awesome, and while the conversation was in good nature, I was still shocked by her preconceived notion of what one of our women-only tours might be like. She made it very clear that she would only travel with other women she knew and that the last thing on earth she'd want was to travel with 20 women.
Perhaps she was playing devil's advocate for her audience, but here are some of her beefs about women-only tours:
1) Women feel entitled. So much so that we are all fighting to get the seat we want on the bus or at dinner.
2) Women are so competitive in nature that we can't get along.
3) Woman-only tours attract lesbians (NOT that there's anything wrong with that!).
4) Women-only tours attract meat eaters, too.
5) Taking a women-only tour means you have to shave your head (seriously, listen to the interview!).
6) There are far too many cosmetic bags on a women-only tour.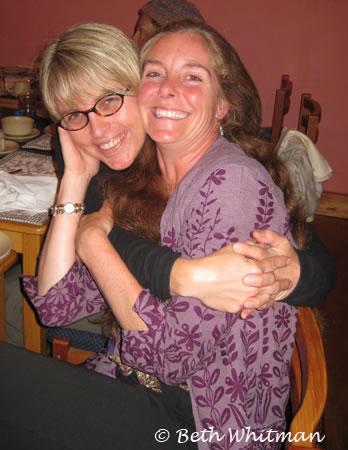 7) During even a week-long trip, there are those either on their menstrual cycle and grouchy or, worse, going through menopause and having hot flashes.
Wow. Wow. Wow. I'm sure I repeated that word numerous times throughout the interview because, seriously… women only tours consist of shaved-head lesbians who love a side of beef for dinner?
Of course, I can't speak for all women-only tours, but I can tell you that on a women-only WanderTour, Jen's experience would be quite different.
1) Most participants are women between 45 – 65. And, yup, during a 3-week trip it's pretty certain that someone's got their period or having a hot flash or two, but few complain or have issues.
2) Many of the women are divorced, widowed or married to a husband who doesn't like to travel. They want a safe environment in which to travel and aren't interested in hooking up (as some single tours promote). They want to be with like-minded women and share experiences that their friends, significant other or husband isn't interested in.
3) Our Wanderlusters may not shave their heads but they are adventurous. In the 2011 tour to Vietnam and Cambodia, 2 women got their noses pierced in Hanoi! One of the women is in her 60's. (I can only imagine what her husband said when she returned home with that souvenir!)
4) While many of our participants are meat eaters, about 1/4 have dietary restrictions including vegetarian, vegan, lactose intolerant or with allergies to such things as peanuts or buckwheat.
5) Competitive? Maybe. But on our trips, women aren't catty. We don't put up with that BS. If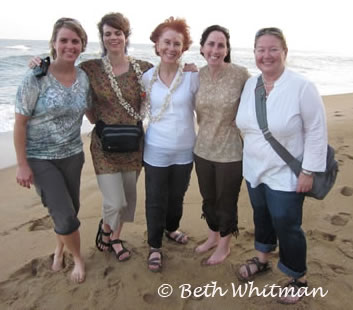 there's an issue, women are asked to talk to the tour leader to iron out problems. And while there is probably more back chatter going on than the tour leader knows about, everything seems pretty civil from my point of view.
6) As for being entitled and fighting for seats? Meh, I haven't seen such a thing. Everyone is respectful and is happy to rotate for a better window seat or an aisle seat with more legroom.
7) There might be one too many cosmetic bags floating around but we're just as likely to attract the most experienced traveler who carries one 19 inch carry-on and isn't afraid to be seen in the same few outfits on a 17-day trip. (I was in total awe of Kristina who did this for our South India tour in January!)
Having grown up with 3 older brothers, I didn't have the luxury of learning from (or competing with) a sister. As a result, I have come to thoroughly enjoy the friendship and camaraderie that gets established on these tours.
As a matter of fact, I've become friends with women whom I would never have crossed paths with otherwise. And I'm not talking about simply because of geography.
Here's just a sampling of tour participants that I now count as friends: a firefighter in Northern California; an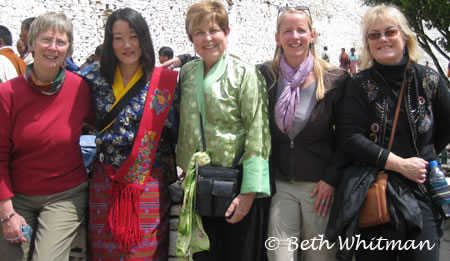 entrepreneurial business owner in Michigan; a former Louisiana legislature (and staunch Republican – ack); a woman in British Columbia who owns several businesses with her husband and who also flies a small plane (and also now has a nose ring!); several physical therapists and nurses; a woman in her 70's who teaches aerobic classes at her local Y (and put the rest of us to shame while hiking in Bhutan); and an elementary school teacher in California.
I would never have thought I'd have so much in common with this vast array of women that we could sustain long-term friendships, but we do. All because group travel tossed us together.
Oh, and another benefit of traveling with women? You get to learn things that your (non-existent) big sister never taught you, like what a muffin top is and what the latest waxing techniques are 🙂
Everyone has their own reasons, but here are probably the biggest benefits of traveling on a women-only tour:
1) Joining a tour means you don't have to make any of the arrangements yourself. You're a busy woman and don't have time to book in-country flights or trains on your own, make hotel reservations or know the best restaurants for local cuisine.
2) You'll make instant friends. You may not have anyone to travel with but really enjoy the company of others to share the experiences. It's highly likely that you will bond quickly with many of the women on one of our tours (and stay in touch for years to come).
3) You'll have experiences you likely couldn't schedule on your own. We work closely with well-connected, knowledgeable in-country tour operators and guides who help us coordinate unique programs including donating books to school children in Bhutan and watching world-renowned performers in a private home in Varanasi. We even got to meet part of the royal family in Bhutan.
Ultimately, group travel isn't for everyone. But I hope Jen will join me one day on a tour. She's fun and, I'm sure, would be a joy to have along. And I also like thinking it might just open up her world a bit wider…
Travel Well,
Beth
Related links:
Women-only Tours to India
Women-only Tours to Bhutan