Varanasi is the holiest of cities in India and it's the Ganges River that flows through the area. It's where pilgrims come to worship. It's where the sick and elderly come to die. And it's where family members bring their dead family members – so that they may be cremated at the ghats (steps) that lead to the river.
An early riser, I love walking along the ghats in the morning as the sun comes up. Few people are out pre-sunrise, so it's quiet. Not too long after the sun comes up however, hundreds (if not thousands) of people come to the river to bath, brush their teeth, do their daily puja (prayer) and get cleansed in the water. (Note – this is NOT advisable as it's the same river where dead bodies float by and garbage is liberally tossed.)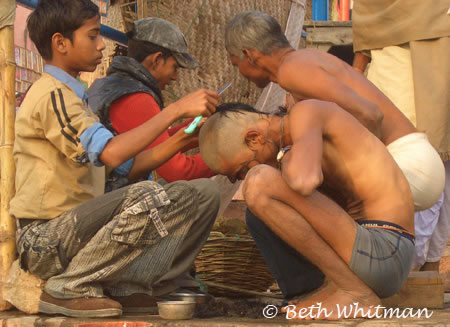 Pilgrims also come to get their hair cut. I'm pretty certain that this is not your run of the mill Supercut. I'm sure there's a significance to it, I just don't know what it is!
While I initially thought this was Buddha, I stand corrected and this is Shiva. See the first comment below…
Interested in experiencing India for yourself? Check out the Women-only North India Tour this fall!
Travel Well!
Beth
Related Links:
Sunflower in Seattle
Moonstruck – Photo of the Day
Flying High