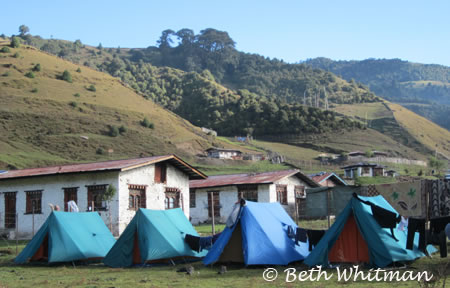 After a rough day of trekking on Day 3, we had a much deserved day of rest. And apparently the incense that was burned on days 2 and 3 finally worked because the sun shone, warmed us up and dried our clothes.
The setting was spectacular Sakten, a valley in far eastern Bhutan. Our camp was set up on the edge of the village and we were surrounded by rolling hills, small homes and prayer flags.
The village itself is rather small and we were able to take a tour of it just before thunder and rain set in in the afternoon. Though the homes are similar to those built in the rest of the country, they seemed just a bit more simple and humble (though still just as fantastic to look at).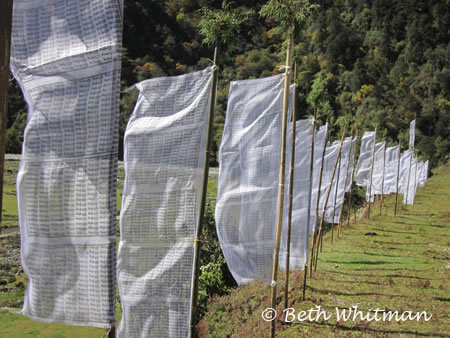 Tall white prayer flags lined the edge of land that overlooked the river we had crossed the night before in the dark. We couldn't have imagined how beautiful this place was when we arrived by flashlight.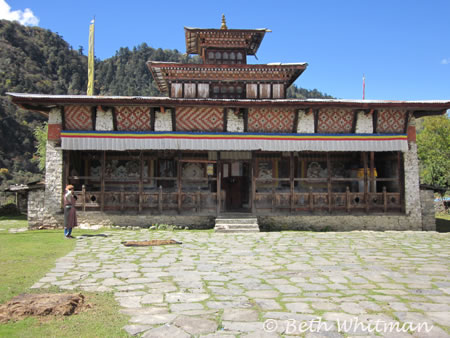 During our walk around the village, we had a chance to stop in at the dzong (temple) where all the villagers would take time to worship.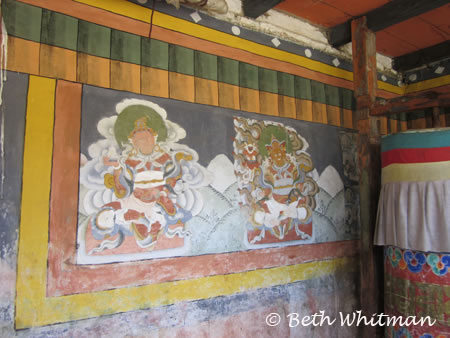 The outer walls of the dzong were painted with dramatic Buddhist scenes and a the ever-present prayer wheel can be seen at right.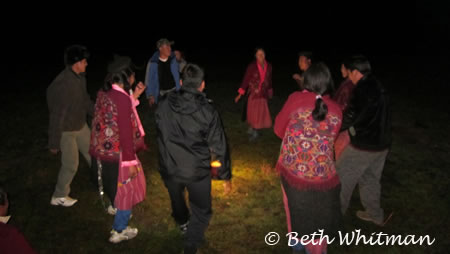 In the evening, the locals put on a program for us around a fire. Ara (the local home brew) was liberally served as was home-brewed and imported wine, beer, buttertea and black tea. In no time, everyone was pretty loosened up and eventually our guide, driver and cooks joined in the dancing. Our group then joined in though we had a very hard time keeping up with what was some intricate footwork on the part of the Bhutanese. It was a grand laugh, none the less.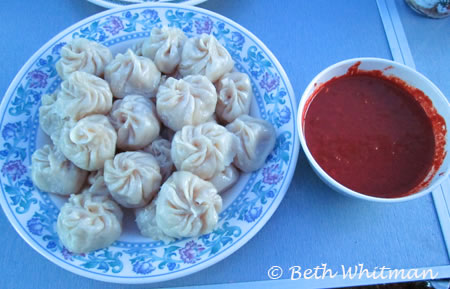 One sure way to win me over is to serve momo's. And that's exactly what our cooks came up with on Day 4. I was indeed a happy camper. (For those of you poor souls who don't know what a momo is… it's a dumpling often found in the Himalayan region, most notably in Tibet, Nepal and Bhutan.) The red sauce is indeed HOT sauce. HOT. And tasty.
It was the people who most pulled me to this region, and I'll have photos of them posted next.
Travel Well!
Beth
Related Links
Eastern Bhutan Merak & Sakten Trek Day 3
Eastern Bhutan Merak & Sakten Trek Day 2
Eastern Bhutan Merak & Sakten Trek Day 1
Bhutan Tours
Bhutan Photo Gallery