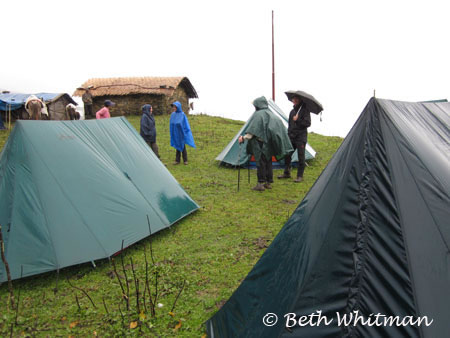 On our second day of the Merak & Sakten trek in Eastern Bhutan, the morning started out a bit rainy but not terribly uncomfortable. The group was full of promise for a hike that we were told would be more difficult and longer than the previous day. (In retrospect, Day 1 of our trek was a piece of cake, but we didn't know that yet.)
We never had to actually scramble up the sides of mountains, but instead followed a well-worn horse/yak path. Even so, we did encounter lots of rocks (see photo right) that made the going slow. The rain, of course, complicated the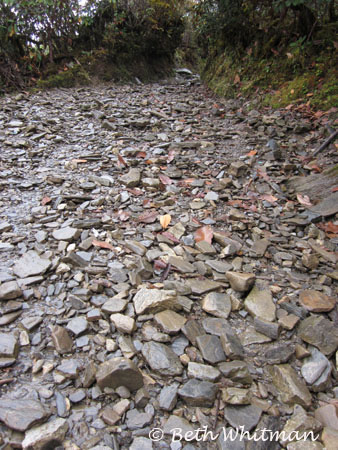 matter by making the path quite slippery.
Keep in mind that this area is very remote (no roads, no helicopter landing pads). The last thing anyone wanted was to get injured – so we took our time to ensure our safety.
Hiking poles became our security blanket and kept us upright despite the odds that were against.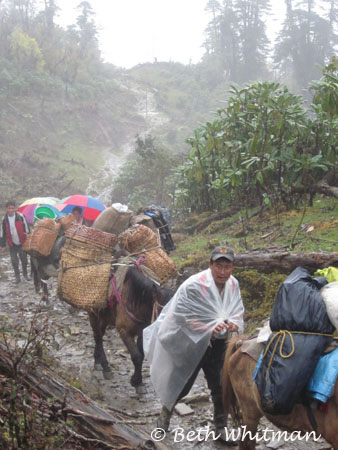 The horses carrying all of our trekking needs managed to pass us every day along the trail – sometimes taking "shortcuts" that were more difficult but got them there far faster than the group. They seemed far less put off by the rain than we were 🙂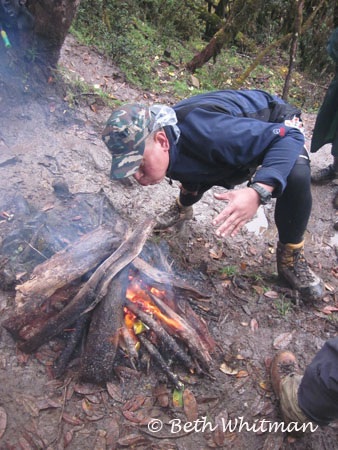 Our very capable and patient guide, Tshering, made a small fire during our short, wet lunch break. He filled it with brush from fallen branches in an attempt to create "incense" to appease the spirits and bring us good weather.
It didn't work. Well, at least not right away.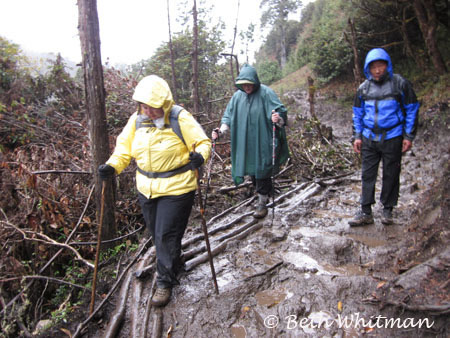 Our intrepid group slowly made headway through the mud and rain and over difficult crossings like these branches that helped us avoid really getting mucked up (for now).
At last. We reached camp in the late afternoon. Just in time to get cleaned up, take a short rest, have some dinner and prepare to do it all again the next day.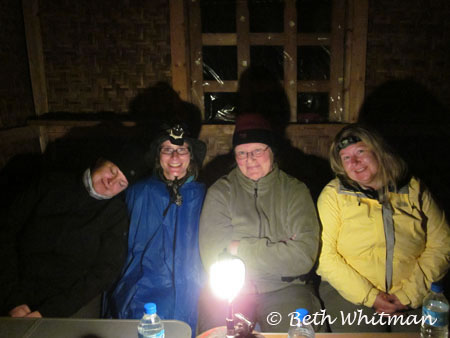 After a light dinner (we weren't super hungry) and the always-present cups of tea, some of us rested in the small dining area and attempted to warm up before heading into our cold tents for the night.
We were told that the third day would be even longer and harder than Day 2… hmmph. What could possibly be in store for us?
Travel Well!
Beth
Related Links
Eastern Bhutan Merak & Sakten Trek Day 1
Bhutan Tours
Bhutan Photo Gallery
Other Bhutan Posts