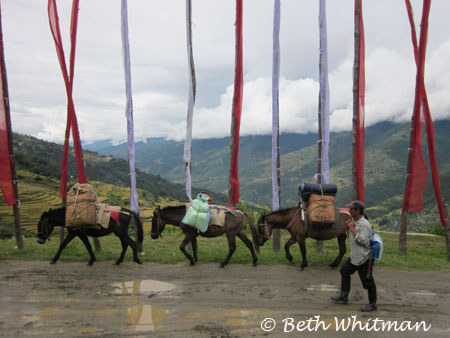 I was going to write up just one post about my group's trek through Eastern Bhutan, giving you a broad strokes overview of this adventure. But as I started sorting through my images, there were just too many to try to pack it into one post, so over the next couple of weeks, I'll give you a day-by-day peek at this fantastic journey.
We were a group of 8. Five of us were from the Seattle-area, one was from Michigan, and one from Switzerland (who was obviously used to spending his weekends in the Alps).
The trek was 5 nights in far Eastern Bhutan. This was the newly opened Merak/Sakten route to the east of Trashigang. We entered the country from Northeast India and set out on a warm fall day with the sun beating down on us, sweat pouring off our backs within a half hour.
We were accompanied by about a dozen horses that carried our packs, food, tents and all other necessities. The horses were owned by a family of 4, parents and 2 sons, who stayed behind to pack up our camp each morning, passed us on the trail, and had everything set up prior to our arrival in the late afternoon/evening.
Day 1

We started out hiking from a village near Trashigang. The day was warm and sunny, and we were all full of energy and expectations about what this trek would hold for us. As only the fourth group allowed entry into this region, there wasn't a lot of information nor photos available about the area, so none of us were quite sure what we were getting into.
The first couple of hours on this day were up, up, up as we climbed toward a spot where we enjoyed lunch in the sun served by our 3 cooks (1 lead, 2 helpers).
After that short break, we continued up the mountain range, where we encountered, what we thought at the time, was a lot of mud. Though the weather held out, it was getting cooler as we made altitude. We finally
arrived at our camp in the late afternoon.
It was quickly clear to us that the guide who had scouted this route for us, was on Bhutan-time and not sea-level-hugging foreigner time. For most of us, our breathing was labored, we sweated, we struggled and, for those of us who didn't bring our own, we relied on the hiking poles and hand-made hiking sticks provided by our guides. When our guides would say that we had "another 20 minutes," this often turned into an hour. What was "just ahead," was another 30 minutes. The goal post kept getting moved and this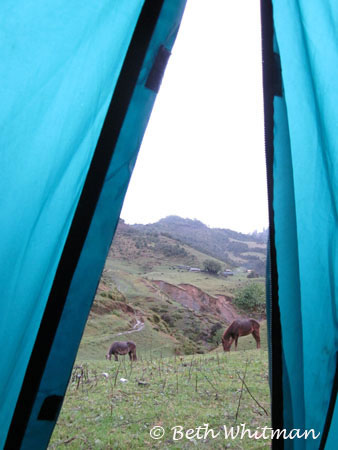 was a bit frustrating – but we started to catch on quickly that what would take a Bhutanese 5 minutes, would take us triple or quadruple that time.
We arrived at camp in the late afternoon, in time to enjoy some tea, hot chocolate and biscuits before a tasty dinner in our mess tent. The local villagers came out to welcome us with a dance and offerings of ara (the local home brew). In exchange, Mike and Cheryl broke out the marshmallows that they brought from home,  and we taught the local Brokpa people (known for their odd-looking yak hats to ward off rain) to roast marshmallows.
We all slept well and were up early the following morning for a full day's hike.
I wore my Tech4O watch that has a pedometer on it and, while these
numbers are probably somewhat off due to my (at times) small steps, this is what I clocked for Day 1:
5.6 miles, 15,552 steps
Elevation – I think we were likely around 6,000 feet at this camp (though I forgot to note this and I might be off)
More stories and photos to come from this Eastern Bhutan trek to Merak & Sakten. Interested in joining a trek to Bhutan in the fall of 2011? Email me and I'll provide you with details as soon as I have them: beth (at) wanderlustandlipstick (dot) com
Travel Well!
Beth
Related Links
Bhutan Tours
Bhutan Photo Gallery
Other Bhutan Posts