Often, it isn't until you return home and have a bit of time for reflection that you realize just how unique and spectacular the sights you've seen really are.
Such was the case when I sat down and scrolled through my photos of South India.
South India, specifically Tami Nadu, is renowned for its temples that are vast and plentiful–so much so that it's difficult to wrap your head around the number, size and age of them all.
You don't have to be an archeologist wanna-be to have a true appreciation for these marvels.
Here are some of my favorites…
The bas-relief carvings of Mahabalipuram were built between the 7th and 9th centuries. These massive walls of art are still in excellent condition even after so many years.
Kanchipuram is among one of seven holy cities in India and a sacred pilgrimage site. This temple complex features beautiful stone pillars that line the interior.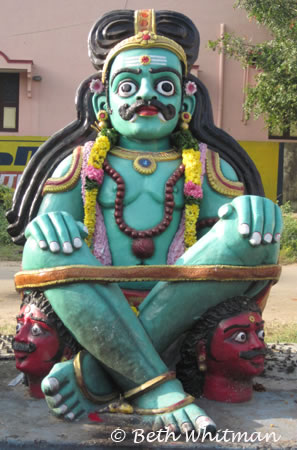 Sometimes the most interesting sights are ones that you would never find in a guidebook. Our guide had the bus stop along a roadway on the way to Pondicherry. Behind an imposing wall, we found a small temple with rather large statues, including the one above.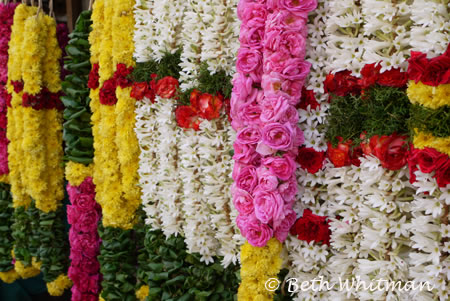 And at most every temple, you have the chance to buy flower garlands as offerings to the gods. Can't you just smell these? I can!
South India is so incredibly different from the north for many reasons. There are fewer people (both Indians and tourists) and far less of the "Madam, you buy…" hassle that is found in the North. The experience is almost relaxed compared to Delhi, Agra and Varanasi (though those cities should never be missed!), and the landscape simply beautiful (such as the tea plantations in Munnar).
It's difficult to say whether I'd recommend the north or the south for first-time travelers to India. Each region has so much to offer.
One thing's for sure – whether you cover them in one fell swoop or on separate journeys, neither should be missed!
You can start by joining one of our tours to India including both South and North.
Travel Well!
Beth
Related links:
South India Tea Plantations
Pongal in Pondicherry
North India Women-only Tour