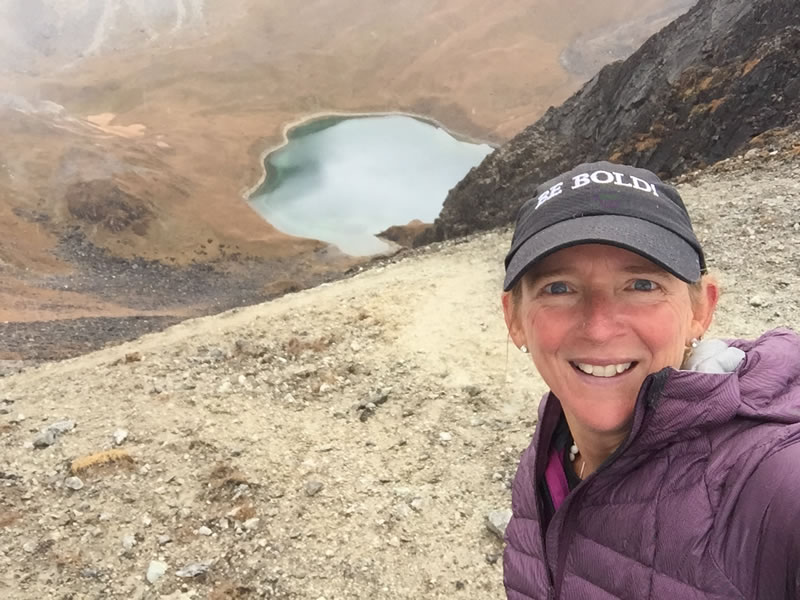 I've just completed my second time on the Snowman Trek in Bhutan–considered the most difficult trek in the world! I was the tour leader through my other company, WanderTours, on both occasions.
The following is an overview of the trek based on these two trips.
This information can be used for those planning to do the full Snowman Trek or parts of it since it can be broken down into several shorter treks. The armchair traveler might even find this information interesting! 🙂
I'll be writing a day by day accounting of the trek in future posts.
Trek duration
There are several versions of this trek, all considered to technically be the Snowman Trek. At 25 days, I consider the one I led to be the complete one. 🙂 Other itineraries include slightly different routes–namely they are shorter in length by anywhere from two to six days. While I realize some people may only be able to do a shorter trek due to time constraints, it's my observation that people who do the shorter treks are the ones most likely to get altitude sickness because they haven't had time to fully acclimate.
During our 25-day trek, it takes us 13 days before we reach 16,000 feet. Some tours reach that altitude in as little as five days and that's just too quick, especially for those of us living at sea level. I've seen people having to abandon the trek, returning by pony, after getting sick at this altitude. But I've also seen people getting helicoptered out well below 14,000 feet. While there are many reasons for a person getting ill and having to return to lower elevation, not taking the time to acclimate is high on the list of causes.
We started near Paro at Drukgyal Dzong and spent 10 days getting to Laya (about 12,500 feet). Shorter treks start near Punakha, taking two days getting to Laya. Again, this can be too fast if your plan is to continue upward in altitude.
The guides often say that the hard work really starts after Laya because, after this village, the altitude and difficulty increases tremendously. That is definitely true!
Timing
The window of opportunity to do the Snowman Trek is quite short. You've got about two months in the fall that are ideal. The rain in the summer and the snow in the winter make it impossible during these times. And there's still too much snow on the high peaks in the spring. The rains taper off in September enough to make this the best time. The 23rd of September, in fact, is called Blessed Rainy Day and, in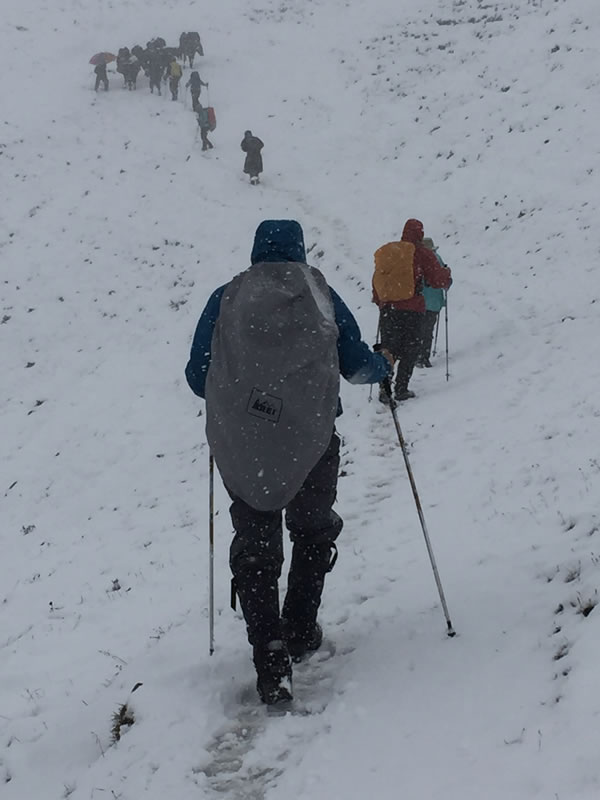 theory, the last day of rain. In truth, that's wishful thinking!
By late October, the snow starts to fall full on in the Himalayas, making it impossible to trek at the higher altitudes.
To make it a successful trek, we start in mid-September and accept the fact that we'll encounter rain during the first week or so. Groups that start later risk encountering so much snow in late October that they either get stuck and have to be evacuated out or they get turned back because they can't go forward.
For sure a group can be successful if they start later, but I've heard too many stories about groups that have been stuck in snowstorms later in their tour and have had to be evacuated out via military helicopter. If the snows are too deep, neither ponies nor people can cross the the passes.
A typical day
Bed tea (when the cook staff brings hot tea to your tent) is usually 6 a.m. Washing water (when the same staff brings a bowl of hot water for you to wash up with) comes at 6:15 a.m. Hopefully you've set your alarm well before bed tea because you'll need time to pack up your gear, get dressed and then head to breakfast. During this time, the staff is also filling your water reservoir for your backpack and you're getting your day's worth of gear together (food, water and layers of clothes).
Breakfast is served around 6:30 and includes some combo of eggs, toast, pancakes, oatmeal, cereal and muesli. Hot tea and Nescafe coffee are always close by as well. The smart trekkers bring Starbucks VIA or Nescafe 3-in-1 packets for variety.
We usually left camp at 7:30 or shortly thereafter. This was pretty much the case on most days unless we knew it was going to be a very short trekking day and the group wanted to sleep in. The reason for leaving early was to get ahead of the weather. In the mountains, the weather–be it clouds, mist, rain, snow or wind–tends to roll in in the early afternoon. We therefore wanted to arrive at camp before we hit the bad weather. Leaving early also gave our staff time to pack up all of our gear, pass us on the trail and then get everything set up before the bad weather came in. It also meant they had some time to relax in the afternoon before they began preparing our dinner.
After leaving camp, we trekked for usually 2 to 2.5 hours and then stop for either a tea and cookie break or a juice break. This gave us a chance to rest as well as refuel. Rather than eating cookies at this time, I ate a protein bar. As a vegetarian, it was a good source of protein for me and helped me avoid sugar, which I'm not a big fan of.
After our short break, we'd be back on the trail for another couple of hours and then would stop for lunch. Our cook staff would carry a tiffen of food that included rice and veggies (left).
Depending on the distance we needed to cover that day we would then either be at camp for our next break or we would stop again in the afternoon.
Because when I get hungry, I get hangry, I always made sure I had extra snacks with me so I could nibble any time I got hungry. I encourage others to do the same because you never know when you're going to have  drop in energy and need a boost.
Once we got to camp, our snacks there consisted of either popcorn (yay!), peanuts, cookies or crackers. And more tea and Nescafe.
We would have time in the afternoon for a break and to recoup from the day's walk. Some people chose to lay low in their tents, take a nap or journal. Sometimes we all gathered for a "happy hour" and played games either at the campsite or in the dining tent.
Dinner was then 7 p.m. This always consisted of soup and then we'd have rice along with a variety of items that would have included a combo of cooked veggies, usually one meat (although we had a fair number of vegetarians), noodles, pasta and a dessert of canned fruit cocktail. Sometimes we were surprised with a special meal (special because these took so long to prepare) of momo's (my favorite!) or fried spring rolls.
I've learned from trekking as well as from marathon training that what I eat to sustain myself during hours of hiking or running is not ideal food. I try to stay away from processed foods and sugar at home but these things are very convenient and really, necessary, when you're pushing your body and burning lots of calories. I'd need to eat food I normally wouldn't just to get enough calories for the day.
After dinner it was off to bed by 8:30 p.m. 🙂
Repeat. For 25 days…
It's difficult to trek for that many days. It's not the altitude (although I do struggle with that) and it's not the terrain (although that can suck, too). It's not even the limited variety of food. For me, sleeping in a tent for 24 nights and doing the same thing day after day was the biggest challenge.
Your staff
Depending on the size of your group, you'll have ponies numbering anywhere from five (if you're on your
own) to 30 or more (if you've got a group of nine, like my most recent group). You'll also have cookstaff numbering anywhere from one to three young men, a trekking guide and a number of horsemen (we had three for most of the trek).
Our guide, the fabulous Tobgay, had completed the trek something like eight times (and had been turned back by weather on other occasions). He was our trekking guide, our teacher of all things Bhutan and Buddhism, a friend, a storyteller, a momo-maker and even carried us across rivers when needed. 🙂
Tippy was our cook who came up with some fantastic dishes along the way. His English was not great, but when he spoke it was always to say something funny. Tippy is an amazing cook (especially given what he had to work with), a character, an entrepreneur and, you could tell, a good friend to his staff.
Sherub Dorji, Sonam, Chimey and Kuenga all provided support to Tippy, Tobgay and to us. While they weren't working 24 hours a day, they were definitely working 16 hours a day from before our breakfast was served until well after we were done with dinner (usually 8:00 p.m.).
They picked us up when we fell in the mud, they carried us across rivers, set up our tents, cooked, boiled water for our daily use, made us tea…the list goes on. They were our lifeline and I only hope they know through our actions and kindness toward them that we appreciated them beyond words.
Ponies or yaks?
You will not be responsible for carrying your own gear other than a day pack with water, food and clothes for the day. All other gear (tent, sleeping bag, etc.) are carried by either pony or yak. It used to be when people did the Snowman Trek (and you'll find references to this in some guidebooks), yaks were the preferred way to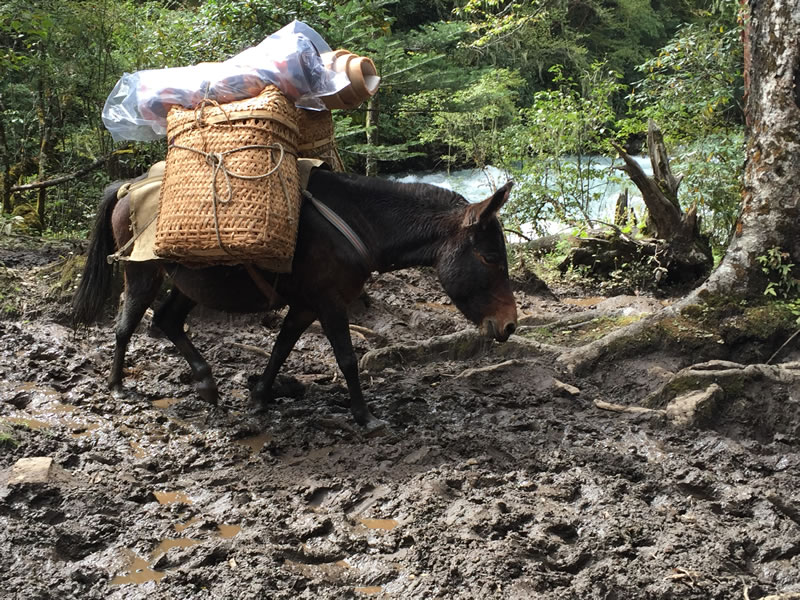 have your gear carried. Yaks are able to get through snow more easily than ponies but they have proven to be unreliable and less manageable than ponies. Therefore, most groups now rely solely on ponies and mules to haul their gear.
The support staff packed up our gear each day in big canvas bags lined with plastic (to attempt to keep our items dry). Their goal was to then balance the gear on the ponies so that the stronger animals had the heavier gear and that the weight was balanced on the pony.
Though the trail is considered a trade route for yaks and ponies, it is pretty treacherous. It's difficult to watch these animals, particularly on the more precarious portions of the path but it's what they do. And they are quite adept at it.
Trail conditions
It should go without saying but I will say it anyway because it surprises some–the trails, views and weather change from year to year, day to day. So, whatever itinerary you're reading, don't get too attached to it. 🙂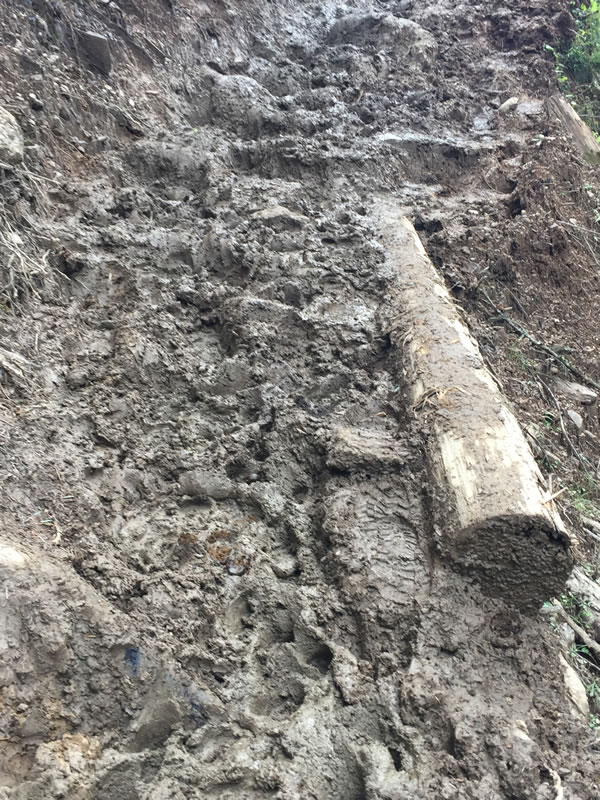 The Bhutan government has made some improvements to this trail since 2014 when I first trekked it, but rain and snow affect conditions dramatically. And while you're assured some mud at some point, it's difficult to tell just how much until you're actually on the trail.
In addition to mud (>>>), expect rocks, rivers and lots of pony and yak poo.
You might encounter some river crossings where you're expected to take off your shoes and socks, and roll up your pants to cross OR be carried by your guide. There will also be suspension bridges and river crossings where you are walking across a log or tree branches (the guides usually stand in the water or on the log, holding your hand to help you stay steady).
In short, this is not a well-maintained trail.
Medications
I'm not a medical doctor and this is not meant to be medical advice. For that, you must see a doctor prior to this trek. Having said that, I can tell you what I do to prepare for the trek. 🙂
I received from my doctor prescriptions for Cialis, Acetazolamide (this is Diamox which is no longer available in the U.S.) and Dexamethasone. I received Cialis as a free 30-day prescription (otherwise it would have been in the 100s of dollars). Cialis is taken when you don't feel well because of the altitude but want to continue onward. Acetazolamide is taken when things are a bit more serious, you need to descend but you want to continue with the trip. And Dexamethazone is used when you're ill but you must descend immediately.
Difficult but doable
The best way I can describe the Snowman Trek is that it's difficult but doable. Like any kind of extreme or endurance sport or activity, it takes a lot of physical and mental strength to complete. Having said that, while hiking at altitude is tough physically, I think this trek is more difficult mentally.
In any case, to attempt this trek, one has to be prepared both physically and mentally. If you're not, you'll either never complete it OR if you do, it won't be a pleasant experience.
Worth it? Absolutely!
Be Bold,
Beth
Want to stay up-to-date on all things Wanderlust? Follow me on Facebook, Instagram or RSS/email.