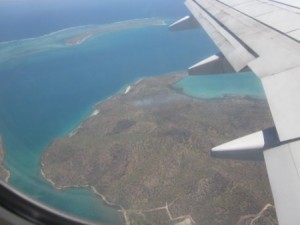 In the time leading up to my return to Papua New Guinea, I was just ticking off tasks from a list. This included everything I "had" to do before jumping on my flight in Seattle. I barely gave myself time to get excited except in the days just prior to leaving.
That's when I finally took the time to watch this video from Bob Krist that features the Huli Wigmen and also reacquainted myself with the Lonely Planet Guide to Papua New Guinea. It was then that I could hardly contain myself. I felt electrified. Buzzed. And more excited than even my first trip last summer.
This time I know, to a certain degree, what I'm getting into. I know more realistically just how safe or dangerous Port Moresby is as well as the rest of the country. I know what the small planes are like that take tourists and well-to-do nationals from city to small airstrip. I know that the food is not particularly good and am thus armed with Clif Bars, bags of nuts and chocolate.
But just as a guidebook can't tell you who you're going to meet along the way or what waitress is going to make an impression on you at the recommended restaurant, I also know that there are untold adventures waiting to unfold in the next 2 weeks.
My stomach slightly churns with anxiety about some of the dangerous warnings but mostly I'm buoyed by the friends that I made last year who are thrilled that I'm returning and are eager to meet with my group and talk about what it's like to live in PNG.
When a country attracts few visitors, those who live there will go out of their way to welcome you and I feel a whole host of  open arms that are going to make this trip better than the last (and which will lay groundwork for making next year's trip better than this one).
I might complain about the Seattle weather, the blue-haired drivers in Ballard who cut me off and then drive too slow, or the neighbor's cat who constantly uses our front yard as a litter box, but the truth is, I should not have one complaint. With a home filled with travel books and souvenirs and a partner willing to oblige my travel whims (and accompany me on any one that has a surf spot), Life is Good.
I realize that I lead a life that most people envy. I know because I receive emails weekly that confirm this. And with each one of those emails I want to say, "YOU CAN DO THIS, TOO!"
We all have the ability to make our life what we want it to be. The problem is that most of us don't know what we want or don't have the courage to follow our path. (It took me 40 years of saying, "You can't have a career as a traveler" until I turned that around and said, "How can I have a career as a traveler?")
So, I feel lucky that I am returning to my dream destination. A country of 850 tribes and languages. One of high mountains and tribal warfare. Of unparalleled diving and impenetrable jungle. I longed to visit PNG for 30+ years and I'm here for the second time in 53 weeks.
I'm buzzing. I'm tingling. And I'm hoping that my group of 10 departs in 2 weeks feeling the excitement like I do.
Travel Well!
Beth