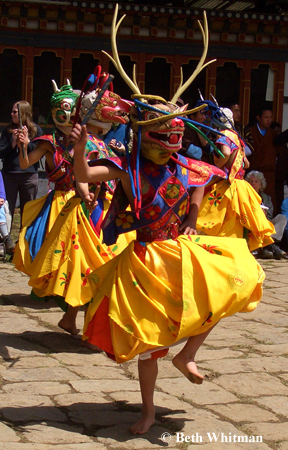 It's official.
The Bhutan government is raising their daily tariff.
Beginning January 1, 2012, the minimum rate you'll pay as a tourist traveling to the Kingdom of Bhutan is now $250 per person/night for a group of 3 or more. If you're a budget traveler or are used to costs more in line with other Asian countries, this can sound quite steep (especially when you factor in flights and the additional costs that come with taking a tour).
So why the high price to get to this little-known country?
A book could likely be written about all the reasons why this makes sense for such a remote destination but I'll take a crack at what I've observed and try to boil it down to a few reasons.
By requiring people to pay a high daily sum to visit, Bhutan is excluding the backpacking crowd that has inundated neighboring countries India and Nepal. While the cash infusion has boded well for many locals in those countries, it could be argued that it's had deleterious effects on the culture. Nearly every Bhutanese is Buddhist and while some are enjoying material gain (cars, satellite TV, etc.), most aren't interested in increasing their wealth so there is little pressure to open the country to mass tourism.
Bhutan's remote location means there are few navigable roads. It's not uncommon for the country's one main "highway" to be blocked by landslides even in the driest seasons (spring and fall). Though there are relatively few cars/trucks/buses on this road, it's narrow enough that it could not handle a huge increase in traffic anytime soon. Keeping the number of tourists low means less strain on the roadways.
Though Paro and Thimphu have seen an influx of restaurants in the last couple of years, there are still relatively few places to eat outside of your hotel's buffet. While no tourist would starve in Bhutan, options are already limited with the few tourists who do visit (approximately 25,000/year).
The same goes for hotels. While they are being built at quite a high rate in Paro and Thimphu, there are some locations where there are no more than 3 hotel options available. Tour operators all vie for getting their clients into the best one(s) or are forced to change their group's itinerary if all the hotels are booked with other groups.
Ultimately, this high tariff helps support programs provided to the Bhutanese such as medical care and education.
The country places a high value on their natural environment. Some of the world's highest peaks are located here but no one is allowed to climb them. The country's forestry policy is to maintain at least a 60% forest cover at all times. While they may be dangerously close to that figure, it is an important topic for the government.
*****
Ultimately, this daily tariff means that the Bhutanese have limited outside influence (don't get me started on why they banned and then allowed the WWF and MTV to be shown on satellite channels). Rather than encourage the pursuit of wealth and stature, they promote a philosophy of Gross National Happiness. The government takes care of their people by providing medical care and education and the people take also take care of each other (for example, orphans are taken in by extended family or the community).
There's a story about a yak herder in Eastern Bhutan who was offered $500/day per
yak by a group of trekkers in need of using them as transport for their trekking goods. He declined. He needed his yaks to transport his own goods or to work in his fields. This would have been a tremendous amount of money for him and he could have likely lived a long time on the total sum. Yet he turned it down as it might have meant his fields would have gone fallow or he couldn't get his vegetables to market.
This goes to show you that the Bhutanese are happy, genuinely happy, with what they have. And it's likely because they are well looked after (oh, and they happen to live in the most beautiful place on earth!).
On the other end of the scale, you have countries like Papua New Guinea and Brazil where the government is literally selling land out from underneath the tribal communities to mining and lumber companies (usually based in other countries). Not only is deforestation a huge issue (and a major contributor to global warming) but large numbers of indigenous groups are being wiped out in the process.
Whether you agree with the high tariff imposed by the Bhutanese government or not, you can't argue that ultimately it is protecting the country on many levels. While there may be flaws to this equation, who can argue with a government that truly looks out for the interest of their citizens?
Travel Well!
Beth
Related links:
Trekking tour to Bhutan
Women-only Buddhism-focused tour to Bhutan
Co-ed tour to Papua New Guinea