Sad to admit it but it's been a few years since I've been to India. Working on the details for next fall's North India Culinary Tour, however, did two things for me. First, it sparked a really strong desire for me to return. And second, it made me really crave the fantastic flavors of the food that can really only be found IN India.
Here are some of my favorite photos of Indian food that I've taken over the years…
This was a vendor in Agra. I just loved the display – I don't think I've seen anything quite so beautiful from a food walla before.
Ever have a thali? This is a traditional meal in India. It comes with a variety of dishes (usually dal, yogurt, chutney, and vegetables) served in small bowls along with a type of bread such as chipati or puri. You then tear the bread with your right hand (only), scoop up one of the dishes, and eat your heart out.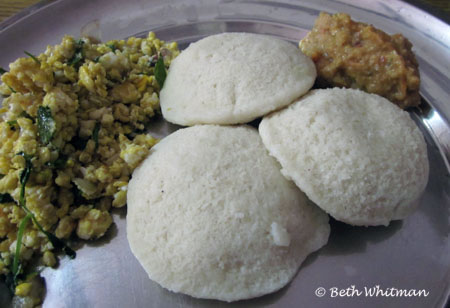 Idlis are my very favorite Indian dish. These are typically found in the south or at restaurants specializing in South Indian fare. Served for breakfast, they're made of fermented lentils and rice and served with (oh-my-god) sambar, made of pigeon peas and tamarind. Dang, I can taste these right now.
Though they look similar, these are not the same sort of doughnut you'd find in North America. These vadas are of the savory kind. But equally (maybe more so) as yum.
In Chettinad, in the state of Tamil Nadu, they are famous for their spicy and flavorful cuisine. During one of our tours, we watched a food demonstration on how to prepare each item and then we were presented with lunch on bamboo leaves! How gorgeous is that?!
Yes, they do have fast food, too. But you won't find beef being served (cows are sacred, after all). But you will find a McVeggie sandwich. The full meal deal is about $1.40 U.S.
Hungry? Want to see India? Join us for our first ever Culinary Tour to India. It's women-only so bring a friend, your sister, mother or daughter and let's eat!
Travel Well,
Beth
Related links:
North India Culinary Tour
North India Cultural Tour
South India Cultural Tour
Â