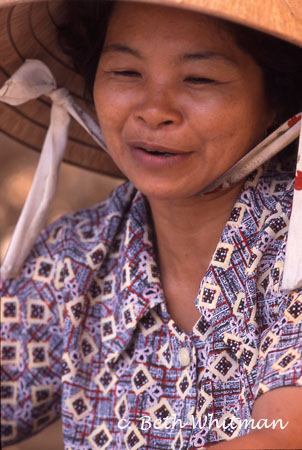 I was sorting through some old photos of Vietnam that I've taken over the years and started pulling out the people pics. I kept being drawn to the women in their wonderful conical hats. A perfect Photo of the Day theme, I thought!
The woman above works on a boat in Ha Long Bay. The scarf around her chin is also used to cover her mouth when the fumes of the surrounding boats gets to be too much.
I just loved the peaceful look on this woman's face.
This woman was also working on a boat in North Vietnam.
In a village not too far from Hanoi, the main industry is conical hat making.  We meandered through the streets and alleyways and saw numerous women like this one sitting outside her home working on her next creation.
And this is the final product in use. These gals are on a boat in the Mekong Delta in South Vietnam.
Thanks to Debbie at DeliciousBaby for hosting Photo Friday. Pop on over to see more great photos!
Travel Well!
Beth
Related links:
Vietnam & Cambodia Women-only Tour
Photo of the Day: Monks Doing Normal Stuff
Photo of the Day: Indian Bangles
Photo of the Day: Varanasi
Photo of the Day: Prayer Wheels – Bhutan
Photo of the Day: Bangkok Flowers
Join other Wanderlusters and help make this the most popular women's travel blog by subscribing via email or RSS