When a destination captures you so completely, it's hard to pull favorite images to share. I've been struggling with that myself as I sort through my Papua New Guinea photos.
I don't claim to be an excellent photographer, but sometimes the subject matter makes me look more talented than I am. Such is the case here 🙂
Because I had such a hard time pulling favorites, I thought I'd split my images up into at least 2 posts and share these with you a handful at a time.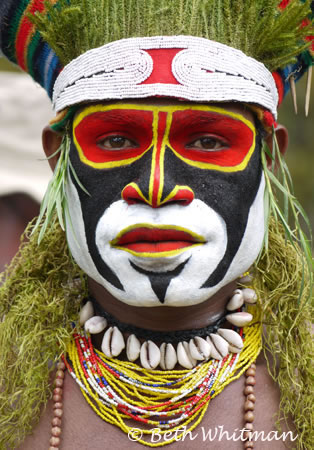 This man was a participant at the Mt. Hagen Singsing. He is a member of a tribe located in Mt. Hagen (in the Highlands) and is wearing a knit cap, shells, beads and a seed necklace. I love his intense stare and his perfect makeup.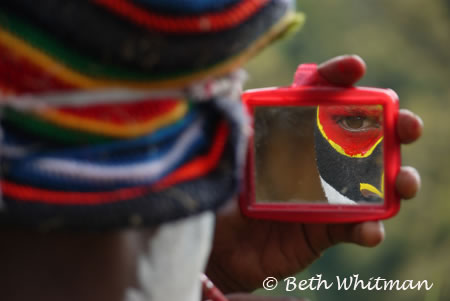 I have to admit that this is an image that I'm proud of – having been able to get his face in focus in the mirror as he applies makeup in preparation for a singsing. Prior to the show, it's very easy for people to walk around and photograph the participants as they prepare for their performances. It's a source of pride to have their photos taken and they seem disappointed if you walk by without taking their picture.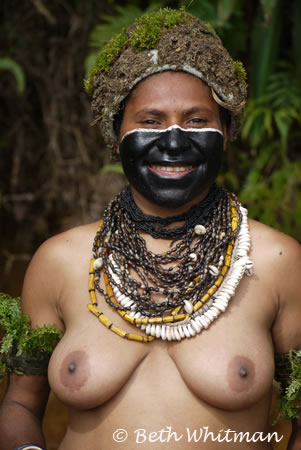 Men do outnumber women at the singsings, but the women are just as talented with their singing and dancing performances. Many of the women wear a lot of makeup, beaded jewelry and clothes, but this woman is more simply decorated.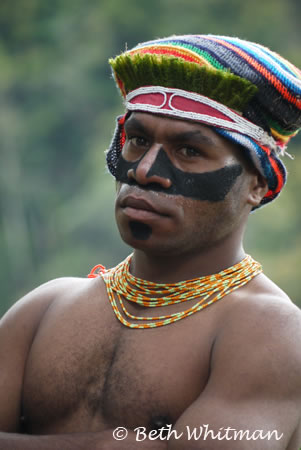 Isn't he handsome? The truth is that the men are generally in very good shape as their lifestyle is very difficult. For many, they spend their days hunting in order to feed their families and are responsible for defending their villages. Tribal warfare is not uncommon, especially in the more remote areas. As much as I might have a crush on this guy, I would not want to unexpectedly meet him in the forest.
*****
There's a taste of this fascinating country. You can see all of my favorite images on the Wanderlust and Lipstick Fan Page on Facebook and I'll be posting more here, too.
Travel Well!
Beth
Related links:
Coming Home – the Bittersweet Truth
Return to Papua New Guinea
Papua New Guinea Tours