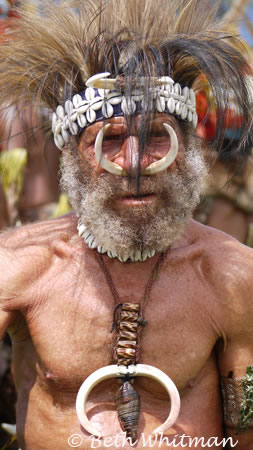 During the two days that I spent at the Mount Hagen Festival in Papua New Guinea, I saw tribes dressed in outfits that were surrealistic. Men and women painted their bodies. They drummed. They sang. They wore bird feathers and pigs' tusks. And they looked fierce.
This tribal man from the Gor SingSing Group was probably the most captivating to me. And I only discovered him during the last 30 minutes or so of my second (and final day)!
The truth is that he was very accommodating in terms of having his photo taken. I got the sense that he (as well as all the other tribespeople at the Mount Hagen Festival) was quite pleased to be captured in digital format. As a matter of fact, I think I detected disappointed faces when I happened to pass people up!
The tribal system in Papua New Guinea is like no other. With approximately 850 tribes that speak distinct languages, there's a bit of warfare that takes place. The tribal people believe that the spirit world rules their lives and that a clan member can die if a neighboring tribe puts a curse on someone. When a pig or, worse, a bigman (chief) dies, watch out. It will likely be blamed on the nearest tribe or any other group or person with whom that tribe has had a recent issue.
But at the Mount Hagen Festival, all was peaceful. There were approximately 70 groups that attended from around the country but no warfare to speak of. That is unless you count the tourists that were getting yelled at for walking in front of other people's photo opps.
I only just returned a week ago and am still trying to wrap my head around this very complicated country. When people ask me how the trip was, I'm nearly speechless. It's not everyone's cup of tea, but for me, it just might have been the best trip I've ever taken.
If you missed it, read my recap about Papua New Guinea. And please check back as I'll continue to share photos and stories about my experiences in the coming weeks.
See more lovely photos at DeliciousBaby's Photo Friday!
Travel Well!
Beth
Related Links
Papua New Guinea – A Recap
Mosquito Repellent in Papua New Guinea
Tomorrow? Papua New Guinea
Papua New Guinea – Off the Charts