The first time I went to Papua New Guinea, I could barely speak for 24 hours after I arrived home. I didn't know what to say. What I had seen was unfathomable and 3 years and 3 trips later, it's still sinking in for me.
What makes PNG so remarkable is that the 850 tribes that make up this half-an-island nation all speak distinctly different languages and wear very different tribal dress even though many of their customs and beliefs are the same. The terrain is so rough, the jungle so thick that for thousands of years tribes could be living in very close proximity but never know about their neighbors.
While they may not be living in the stone age, many communities still live deep in the jungle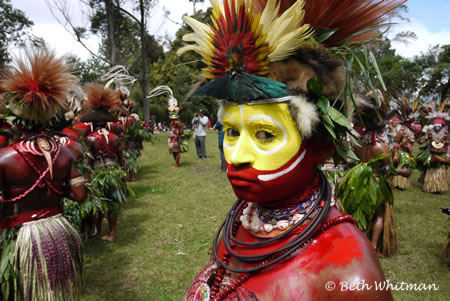 and have had very little contact with the outside world. They hunt with bows and arrows, practice sorcery, visit fortune tellers and witch doctors, and worship their pigs more than their wives.
This fascinates me to no end. I have no right to judge their way of life and instead simply sit back, listen to stories and observe a people that have inhabited their country for what is believed to be 50,000 years.
Despite their ancient customs, their divisions and differences, and their tribal fighting, there are occasions when many of the tribes come together. This happens during singsings such as the Mt. Hagen Festival Singsing which takes place every August.
This year, approximately 50 groups attended the show – all sporting their very best outfits with detailed face and body painting, their bodies weighed down in shells, beads, pigs' tusks and hornbills, and their heads adorned with feathers, leaves and fur.
They attempt to outperform each other – singing, drumming and dancing at a frantic pace that leaves them breathless in minutes.
Once all the groups have entered the showgrounds, they all perform at once and it's a cacophony that can only be experienced to be believed.
While everyone has their own personal favorite group – likely based on makeup, dress or singing – most agree that the Asaro Mudmen (left) rank high.
Legend has it that during a tribal fight many many years ago, the men from this village hid in a muddy river to escape their enemy.
When the enemy had departed and the men walked out of the river, they were covered in mud. The enemy saw them and believed them to be the men coming back from the dead as ghosts. They fled.
From then onward, the mudmen donned these outfits to outwit their enemies.
Some groups are known for being quite elaborate in their outfits using shells, animal parts, bird feathers and wigs (yes, wigs – I'll talk about these in a follow up post) to decorate themselves.
Much time is taken to prepare for a show and many of the groups arrive at the showgrounds early in the morning o prepare. This is a magical time for tourists (especially photographers) because we get to see the men and women in partial states of dress – applying makeup, adjusting their headdresses, smoking cigarettes and laughing with each other… They're being themselves and it's a wonderful behind the scenes look.
Now when I come back from PNG, I'm able to talk about it more easily but I usually need photos as a starting point. I think it's because PNG is so far off the tourist map that most people don't know how to begin a conversation with me, nor do I know where to begin explaining this diverse country (it usually starts with, "It's located just north of Australia and occupies half an island with the other half belonging to Indonesia.").
It may not be a destination for everybody, but I'm totally hooked.
Travel Well,
Beth
Related links:
Papua New Guinea Photos (part 3)
Papua New Guinea Photos (part 2)
Papua New Guinea Photos (part 1)