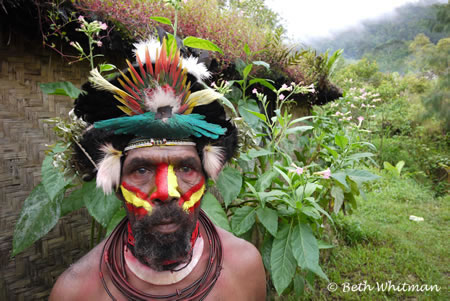 Ever since seeing this video about the Huli Wigmen, I've wanted to go to the little village of Tari in the middle of Papua New Guinea. (Note – the video is of terrible quality, but the content is worth a view.)
Like much of PNG, it's unimaginable to me that people still wear elaborate traditional dress, live in huts deep in the jungle and cook their food in underground fire pits. (And I cherish them for it).
The Huli Wigmen make a big splash at the Mt. Hagen Singsing each year and are usually the favorite group(s) among tourists. You can see why with their wild and imaginative dress. But go to their village and you'll be equally as blown away.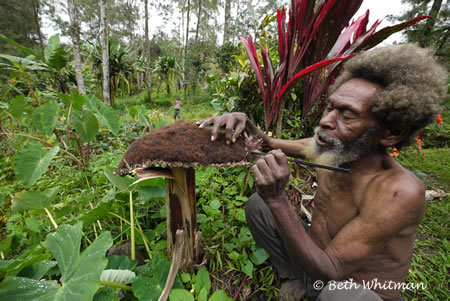 The wigman above had just come out of his hut, where he and 2 others from his tribe had been sitting around a fire, smoking pipes and, likely, telling stories.
While this isn't his daily-wear, he was obviously very comfortable wearing the outfit. He even took the time to explain what each item was made from (bird feathers, cassowary leg bone, cassowary backbone, etc.).
So who are the Huli Wigmen?

The Huli Wigmen are a tribe that inhabit several villages, including Tari, in PNG. Tari is a 6 – 8+ hour (depending on your vehicle, the weather and road conditions at the time) drive west from Mt. Hagen in the Highlands.
Historically, it's a region known to have the most tribal fighting. But more recently, it's know for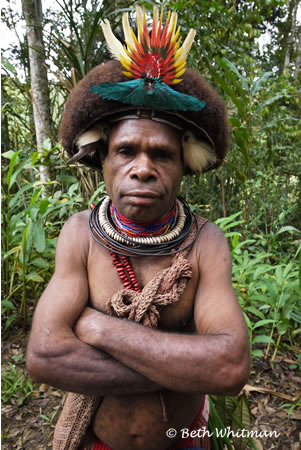 Exxon Mobile's LNG (liquified natural gas) project that has turned the area into one massive construction zone with bulldozers, trucks and escort vehicles (with body guards and attack dogs) to ensure the safety of both expat and local workers.
It's believed that the Hulis have lived in the area for at least 1,000 years and while there are no official records, they've likely developed their custom of creating wigs over much of that time.
So, how do they make the wigs?
Males in their late teens and early 20's go off to Bachelor School, leaving their family and community behind. For at least 18 months they stay sequestered in the jungle, mentored by older men who teach them about manhood and also how to make wigs out of their own hair. (The man in the second photo is preening and shaping a wig.)
The process of making a wig is rather complicated. First, the man must grow his hair out. During this time, the shaping begins. Most of the styles are saucer-like and, as such, it's impossible to sleep on. So, they are forced to sleep with their neck on a brick (or some other item) that lifts their head off of the ground so the hair doesn't get flattened.
It might take as long as 6 months for the hair to grow out enough for a wig. Once the hair has grown out and is shaped, it's cut off from underneath. Traditionally, bamboo was used very carefully to cut the hair from the scalp, small batch by small batch. Now they use knives.
Once removed, the wigs are decorated with feathers from various birds including birds of paradise, cassowaries and parrots. After his time at Bachelor School, the man may leave with 2 or 3 wigs that he will then use for ceremonial purposes (festivals, greeting visitors, weddings, etc.).
The teachers at the Bachelor School are usually paid in pigs, which hold a very high value in PNG and may be worth $250 – $300 U.S. After spending time at the Bachelor School, the students may choose to stay on again or they can return to their village.
Interestingly enough, Huli men and women live separately. They don't eat together, share a bed (except for, you know…) or spend any time together. They will marry but they don't live as a family, even when they have children. Kids are raised by the women though the father does spend some time with them.
There's no doubt that these guys are warriors. They have one of the worst reputations in the country for fighting with tribal warfare often breaking out. (As a matter of fact, a couple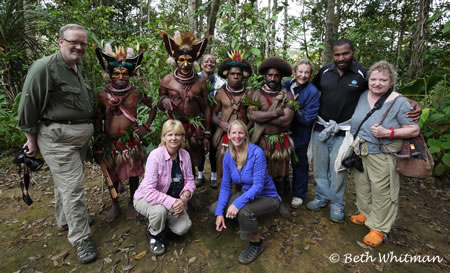 members from our tour group couldn't get to Tari last year because of road blocks due to local fighting.)
But even though they have a terrible reputation for fighting with each other (and they look fierce in these photos), their wrath is not taken out on tourists.
As a matter of fact, during our visit, they were often laughing and making jokes. At one point there was so much banter and laughter going on between these wigmen and our guides that we had to ask what they were talking about. Basically, it was the Huli equivalent of, "A guy walks into a bar," except it had to do with pigs and women.
Before our group left, these men requested that we go home and share our photos and stories of the Huli Wigmen. They are ready for more visitors and are eager to share their stories with the world.
Travel Well,
Beth
Related links:
Papua New Guinea Mt. Hagen Festival
Papua New Guinea Photos (part 3)
Papua New Guinea Photos (part 2)
Papua New Guinea Photos (part 1)