For me, the most fascinating part of Papua New Guinea has always been its people. But the draw for many is the coastline – for its diving, snorkeling and surfing. With fantastic weather nearly year-round, it is a very popular destination for fun in the sun. And even though I don't dive, I did stay at the Tawali Dive Resort outside of Alotau on the southern coast for a few days to relax and see what the area was like. It was beautiful!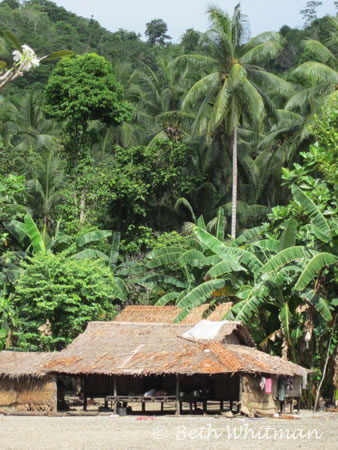 Beyond the water sports, I loved learning about village life. On one day, I took a guided tour along the coast and passed little clusters of villages. Each clearing was home to a different clan (family) and included a few small homes on stilts and another hut for the pigs (very important in PNG village life).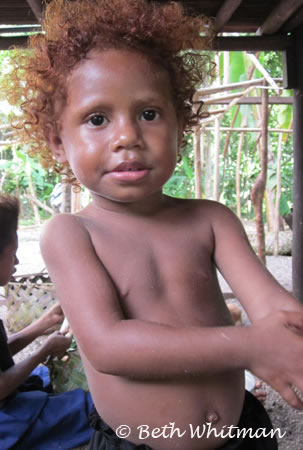 As part of the guided tour, I stopped by to visit with one family who demonstrated how they cook traditional meals including root vegetables (taro and potatoes) and how they smothered it in coconut. It was a fascinating process that I'll write about on my WanderFood blog soon.
The family was delightful. And the kids LOVED having their photos taken and seeing the results on the camera's digital screen.
As a matter of fact, once I started showing them their pictures, they really started hamming it up. Without video games, television and computers, the children were free to run around and spend time with this stranger with white skin and blond hair.
The child at left has "ginger" hair, I was told. At first I thought this might have been a result of a vitamin or mineral deficiency (as I've seen streaks of color in the jet black hair of children in Southeast Asia) but that doesn't seem to be the case in PNG. Rather, it's genetic. In any case, these kids were gorgeous!
Check out my complete photo gallery of Papua New Guinea.
See more lovely photos at DeliciousBaby's Photo Friday!
Travel Well!
Beth
Related Links
Remote Travel Destinations – First Contact
Port Moresby – Is it Safe or Dangerous?
Erima Tribe Photos
Papua New Guinea – Gor Tribal Man
Papua New Guinea – A Recap