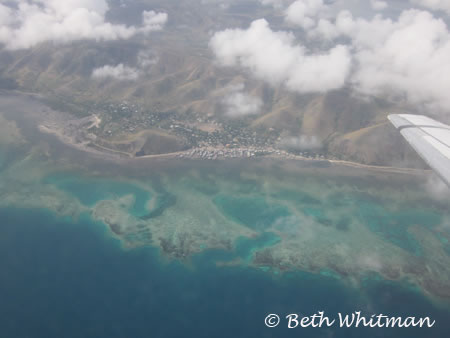 It's hard to know where to start when describing a trip to Papua New Guinea. The country is complicated. It's diverse. And it's magnificent.
After a short trip there, in no way can I call myself an expert, but I did manage to dive in, ask lots of questions and do a fair bit of reading that helped me to understand some of what lies under the surface.
First, a few facts and a bit of an overview…
The country actually occupies the eastern half of an island in the South Pacific (the other half is Irian Jaya) and is roughly the size of California. It is one of the most diverse countries on the planet, with approximately 850 distinct cultures and languages. The languages are all so different that tribes living within miles of each other can't communicate.
Due to the inhospitable terrain (namely, highland jungles), it's one the least explored countries in the world and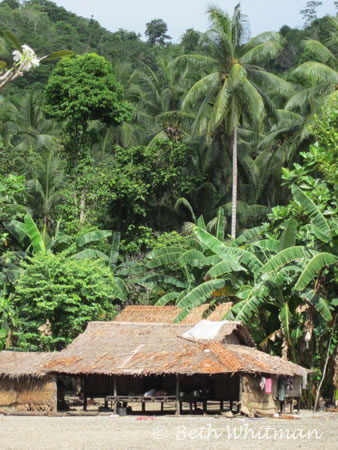 is filled with a wide range of bird and mammal species and more kinds of birds and frogs than Australia (which is nine times larger than PNG!). It's believed there are many species of flora and fauna that have not yet been documented.
Several explorers entered the most remote areas of PNG in the 1930's and there were tribes that had "first contact" with white men as late as the early 90's. The early 1990's! Sadly, these early explorers were either missionaries or industrialists – neither of whom have had any interest in actually preserving these cultures but rather have wanted to change them as quickly as possible. The only reason that many tribes have managed to hang on to many of their traditions is because of their distrust for outsiders – keeping many of them at bay – as well their remote and inhospitable locations.
My fascination with PNG began so many years ago that I can't pinpoint the exact moment that the country popped up on my radar. I do know that it was because of the exotic tribes that I was drawn in. And ever since, I have been so focused on the people that I hardly paid attention to what the landscape or
wildlife might hold. This was one of the most pleasant surprises of the trip – the absolute beauty of the country – from the coast to the mountain vistas. Such a bonus!
I can't give you a recap and ignore the fact that PNG is not exactly the safest country to visit. You would have thought I was heading off to war by the way people responded to me prior to leaving. But, it is not a war zone – and following simple safety precautions, you shouldn't run into any problems.
The biggest issues seem to arise from the young men that leave their villages for the major urban areas. When they are unable to find work, they resort to thievery and violence. Many are armed and because of a complicated tribal system that protects members of the same community (or wantok – one talk), few are arrested or even kept in jail once they are arrested.
Every home, business and hotel sits behind high walls and barbed wire with security guards and cameras. No one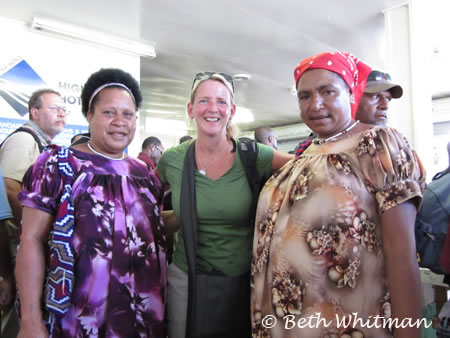 goes out at night. When I asked my guide in Port Moresby why it was only at night that the "rascals" (what these hoodlums are called) come out, he said, "Many of them are good people but can't find work. They don't want to be recognized, so they only come out at night to commit crimes."
Despite this, I found the local people to be extremely friendly. I was often greeted with a handshake and warm smile, whether I was meeting someone from the service industry or strangers in a village or at the Mt. Hagen Show. At the airport upon arrival at Port Moresby, two women approached me and hugged and kissed me. I had been sitting next to the husband of one them and he pointed me out. They were eager to say hello and meet this wait meri (white woman).
Throughout my trip I never felt personally threatened though I was very careful in crowds and was often flanked by my escort from the PNG Tourism Promotion Authority (thanks, Taita!) as well as a local guide.
People DO go to PNG on their own, but I wouldn't recommend it. You really need to go with either an organized tour group or at least make sure that at each of your destinations you're met by a local tour company and that you're guided along the way.
So many stories! I'll be sharing these as well as many more photos in coming posts. Be sure to check back or subscribe to my RSS feed (at right) to keep updated.
Travel Well!
Beth
Related Links
Photo of the Day: Wigwoman from Papua New Guinea
Tomorrow? Papua New Guinea
Papua New Guinea – Off the Charts