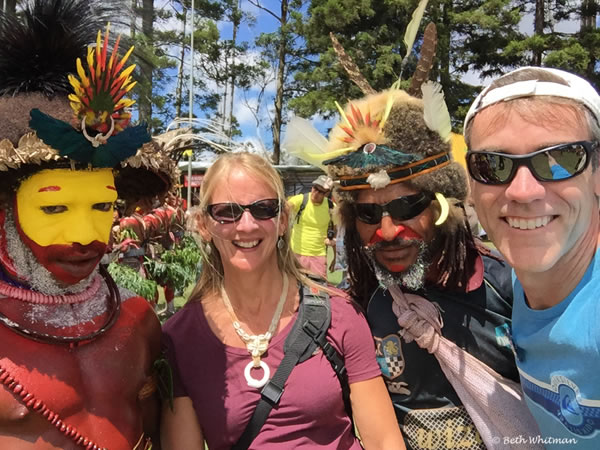 There are so many amazing things to experience in Papua New Guinea that it's difficult to identify just one. I've already mentioned our group's experience in the Sepik River area of PNG. For completely different reasons, our visit to Mt. Hagen and, specifically, the Mt. Hagen Singsing (festival) was a particularly magical time.
This yearly event takes place every August. The singsing began about 55 years ago as a way to bring together warring tribes. By coming together in one place, it has helped break down barriers and create an understanding between the groups. This year, there were 90 tribes that attended the Mt. Hagen Singsing. That's 90 out of 850 tribes found in PNG! They all come to this event to show their pride by singing and dancing in their traditional dress. Here are some of my favorite moments from the tour…
*****
Before the Mt. Hagen Singsing, we attended the Paiya Mini Show. This is a smaller, private event where a dozen or so tribes attend and maybe 100 tourists. We arrived before the singsing groups had a chance to get fully dressed in their outfits. This gave us the opportunity to watch (and photograph) them putting on their makeup, clothes and head dresses.
They have little access to things in the developing world so you'll often see them using broken mirrors or even rear view car mirrors to get ready.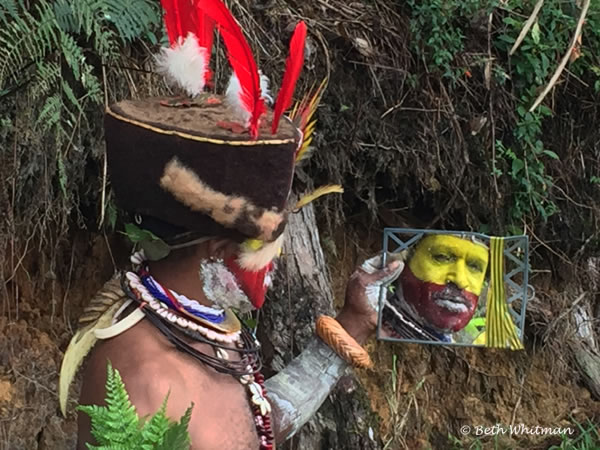 The Paiya Mini Show is most spectacular because of the location. We're off the main road and surrounded by traditional homes, mountains and lush forest. Doesn't it seem like this photo is straight out of an old National Geographic magazine?
The woman below is wearing a head dress made of hair. Yes hair! It takes about six months for the hair to grow out. It's carefully shaved off and then shaped. These ceremonial wigs come in a variety of shapes and are often adorned with feathers, leaves and sticks. (More about the tribe that crafts these wigs in a future post.)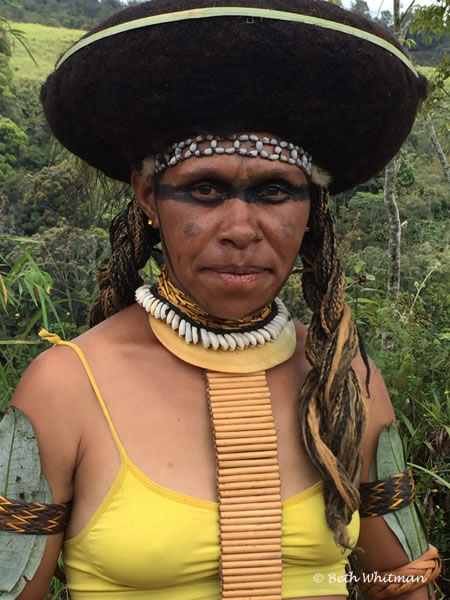 I'm fairly certain pigs' tusks are to blame for my longing to travel to Papua New Guinea! My parents subscribed to National Geographic Magazine and that's where I first saw these tribesmen (like the one below) adorned with all sorts of animal parts, shells, beads, leaves and twine. I've now been to PNG six times and am as gobsmacked after my sixth time as I was my first. This country is simply amazing!
Come join us on one of our Papua New Guinea Mt. Hagen Show tours in August. This tours does always sell out so if you're considering it, join soon!
Be Bold,
Beth
Want to stay up-to-date on all things Wanderlust? Follow me on Facebook, Instagram or RSS/email.