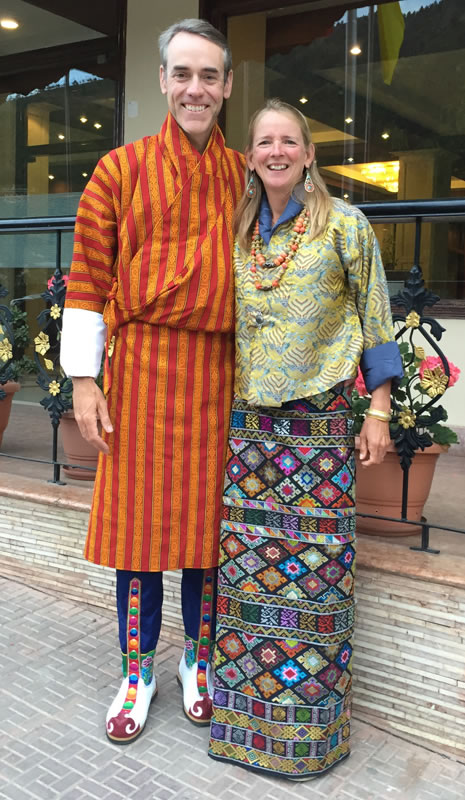 After 16 years and nearly 5 months together, Jon and I decided in a spur of the moment decision to get married in Bhutan!
We had talked/joked about it for years but during our most recent trip to one of our favorite destinations, the timing, location and people felt right, and we decided to get hitched!
The decision came shortly after we completed the Snowman Trek. I guess if you can spend 25 days trekking together (for a second time), you can pretty much commit to a lifetime together 🙂 (Jokes aside, during our 16 years of living in sin, we've never had any doubt we were in it for the long haul.)
After the trek, as we made our way across the country with my tour group, I traded phone calls with my Bhutanese sister, Chuki. Within 24-hours, she pulled together a magnificent ceremony at her home in Thimphu. She assured us that everything would be handled. Not knowing what to expect–since we had never been to or in a Bhutanese wedding–we  trusted her.
We only knew that Chuki would have ceremonial clothes for us and that her uncle, a High Lama, would perform the ceremony.
We arrived with our group at the hotel in Thimphu and told them we'd be leaving for dinner and a special ceremony at Chuki's at 4:45. Apparently, the High Lama had consulted an astrologist and it was important to have the ceremony at 5:00 p.m. sharp because that was our auspicious time.
We didn't tell the group what was going on and they were a bit confused because they left the hotel for Chuki's without us.
We followed shortly afterwards to meet them. When we pulled up to the Chuki's building, we heard horns being blown out the window by four monks. Our group thought we were just getting a special welcome but realized something different was going on when we arrived all dressed up.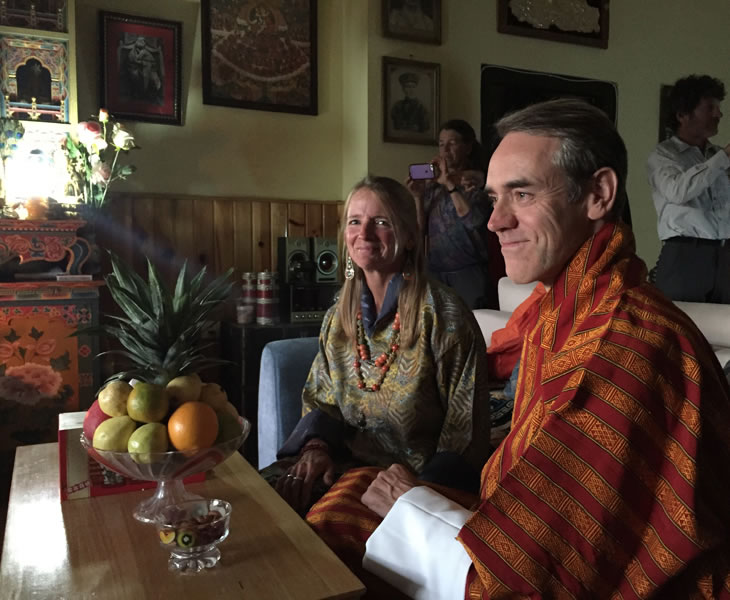 We were seated on a couch next to a floor to ceiling altar where incense and candles burned. In another turn of auspiciousness, the power had gone out in this part of the city so our ceremony was candlelit! How special is that??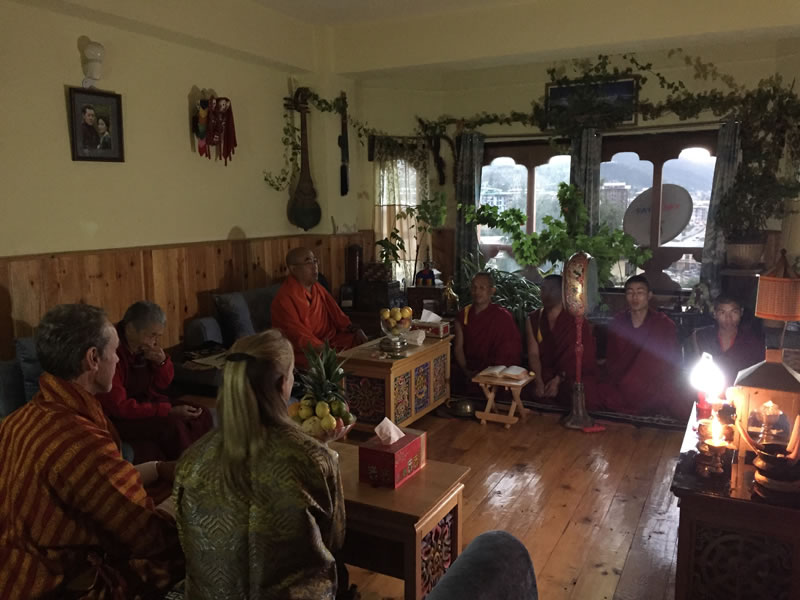 The High Lama sat to one side and led chanting. The four monks sat before us chanting, singing, drumming and playing their traditional horns. They had actually been there chanting for hours before we arrived, ensuring a happy and long life for us both.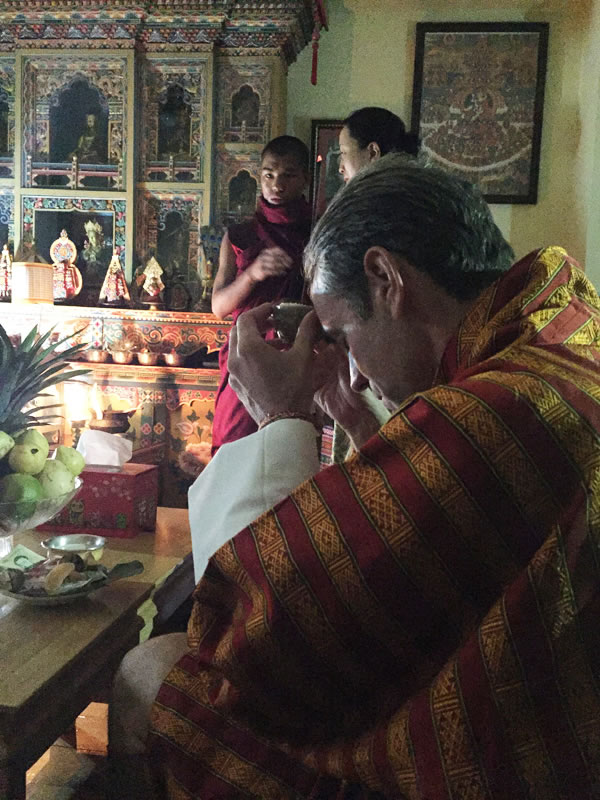 Jon and I shared a cup of yak milk, symbolizing the fact we would be sharing everything from this point forward. And we each made a wish and provided offerings to the deities.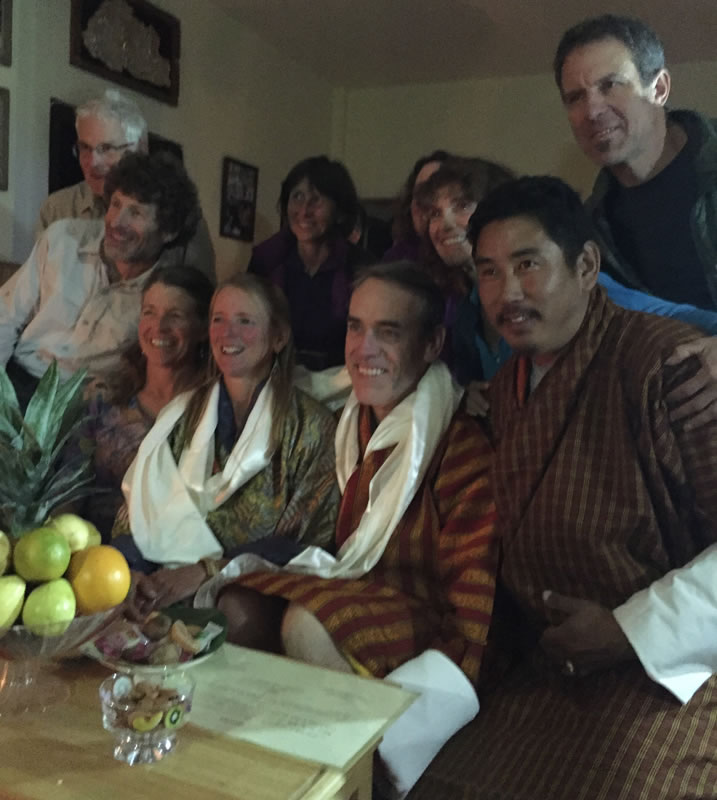 Everyone in the room including our trekking group, our guide, our local friends and their family, all provided us with offerings (packaged sweets, betel nut, small amounts of money, nuts, etc.) and traditional white scarves.
A big shout out to our group who had this ceremony this thrust upon them. We missed a bit of sightseeing as a result of trying to get there by 5:00 p.m. but they were troopers about it. THANK YOU, amazing trekkers!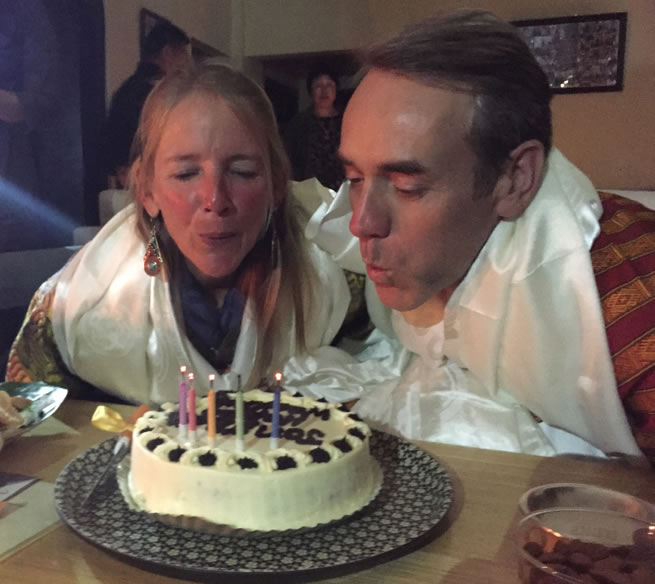 The ceremony ended with cake! Because there must always be cake. Some traditions are universal – eh?
Afterwards we ate a huge dinner prepared by Chuki and her family. They had obviously spent all day in the kitchen working on this meal that consisted of a dozen or more traditional dishes. We all had heaping plates full of food to top off the night.
I never wanted a big traditional wedding. Except for missing family and close friends at this ceremony, it was otherwise perfect.
Be Bold,
Beth
Want to stay up-to-date on all things Wanderlust? Follow me on Facebook, Instagram or RSS/email.