We ran our first ever Thailand and Laos tour in November. I've been so busy posting about the Snowman Trek, that I have not given this much exposure but I didn't want to neglect such an amazing trip.
We had a full group of 16 women on that tour. We toured Bangkok and then traveled up to Chiang Mai and Chiang Rai in northern Thailand and then on to Luang Prabang, Laos for a few days.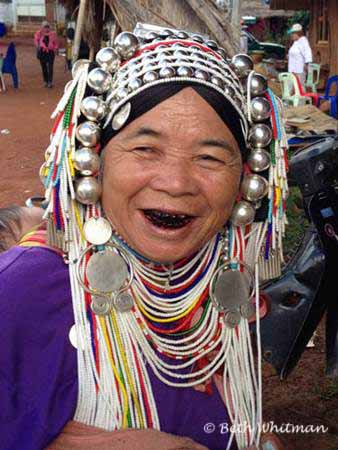 Our focus was on the hill tribes of Northern Thailand and Laos.
Many of these hill tribes are refugees from neighboring countries such as Burma. Most of them are women and children and all of them are marginalized with little opportunity for education, healthcare or employment.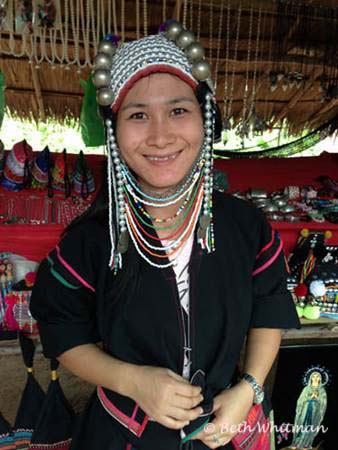 Simply put, they don't lead an easy life.
We visited a few villages and communities where these hill tribe people live. Some communities were in better condition than others. In other words, some appeared to have more money and therefore had access to slightly nicer homes and amenities. But all lived in what we would consider poor conditions.
One community was set up for tourism as there were rows of vendors selling both handmade and imported goods. For me it was slightly uncomfortable. The vendors represented a couple of different tribes (the Akha and the Longneck) and sold many of the same items. So the women tried their best to get our attention and make a connection so we'd spend our money at their booth.
And we did. We left a lot of money at many of the booths. Despite the awkwardness, I was happy to help support them as this is the only way for them to earn money as refugees in Thailand.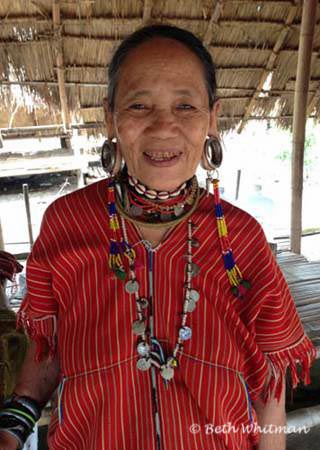 Their story is quite sad–how they have fled to Thailand to escape the abuses by the Burmese government only to find themselves with no money, education or ability to own property in this new (to them) land. They'd like to return to their mother country, but they don't trust the Burmese government enough to do so and there's nothing there for them now anyway.
One of the highlights of the trip was our visit to WEAVE, Women's Education for Advancement and Empowerment, in Chiang Mai. This is an organization that helps women get out of the cycle of poverty. While watching a video at the WEAVE offices about their work, there were few dry eyes in the room as we listened to these women's history and current plight.
On all of our international tours, we give a donation to a local organization. In Thailand, it was to WEAVE. (Side note – I'm currently in the process of filing for non-profit status for the WanderWorld Foundation so that these donations will be tax deductible for our tour participants.)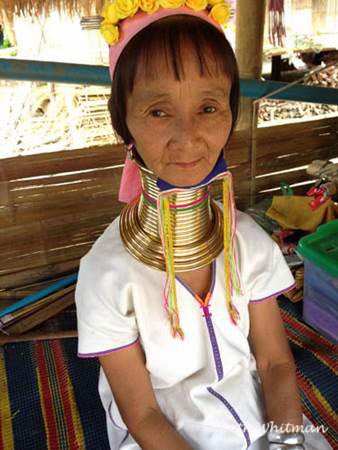 It's controversial whether one should take photos of the Longneck Karen tribes. Detractors say that this just encourages the cycle of women having to wear these rings around their necks and on their arms and legs. And I get that.
But I also believe that 1) it's been part of their culture for a very long time and who are we to say what they should and shouldn't do and 2) by sharing these photos and this post with you, I hope that you'll learn something that you didn't previously know and perhaps choose to learn more and/or visit the tribes and support WEAVE yourself.
We've yet to announce a future Thailand and Laos tour but if you'd like to be contacted when we we do, please contact me.
Be Bold,
Beth
Do you read blogs in Feedly? Click here to add this blog to your Feedly reader.