Most people go to the Sepik River area of Papua New Guinea because they've heard about the amazing artifacts found there. Specifically, the tribes of this region are known for their wood carvings.
For sure, you'll find carvings, but you'll also find paintings, jewelry, billums (traditional PNG bags) and other items throughout the region. What makes the trip so special, however, is that you get to the villages along the Sepik River via dugout canoe and the people are really warm and friendly!
One of our first stops was at the home of Ralf Stuttgen. Ralf has been living in Wewak, where most people arrive before heading out to the Sepik. He's a German who originally arrived in Wewak as a missionary and has lived there since the late 60's. He has a little house where he lives with his extended family and he collects artifacts from around the Sepik region and sells them to the occasional tourists who come by. Here are some of the artifacts hanging in his small home: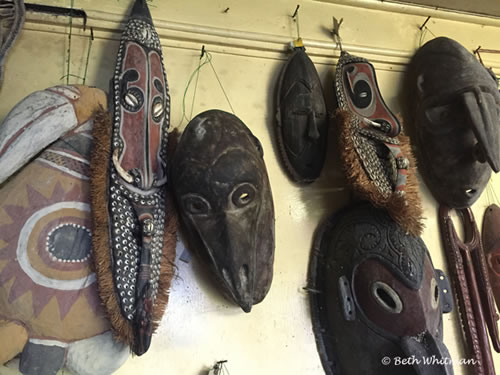 And here's Ralf's family who greeted us…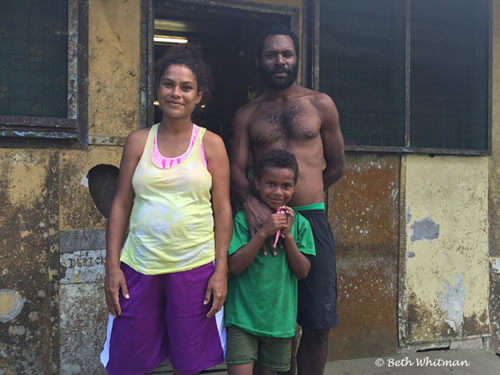 From Wewak, we traveled to the village of Kanganaman, where our group spent two nights at a guest house. Kanganaman is about an hour and a half from Pagwi, where we boarded our dugout canoes.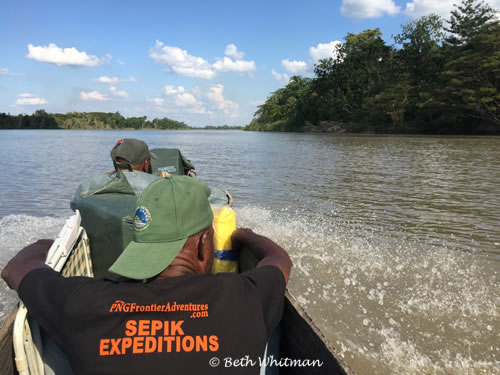 We slept in a house on stilts, with everyone sleeping in the same big room on sleeping pads under mosquito nets. During our brief visit, we attended a local singsing (festival) and ate traditional foods such as sago and crocodile (well, some of us ate the crocodile!).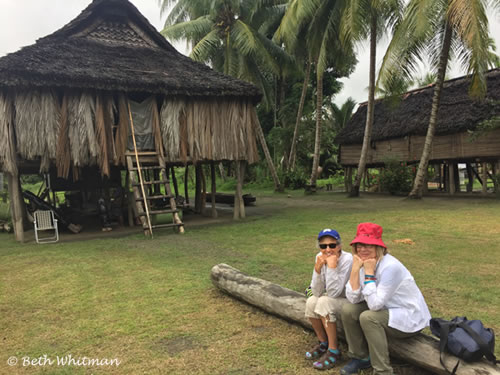 Jon and I picked up this mask from the owner of our guest house. I couldn't resist! Honestly, I've never purchased such a large carving in Papua New Guinea before but this one? I would have been really bummed if someone else bought it – that's a sure sign it had to come home with us!
Here's another smaller statue we purchased. Our guide, Albert, was the artist!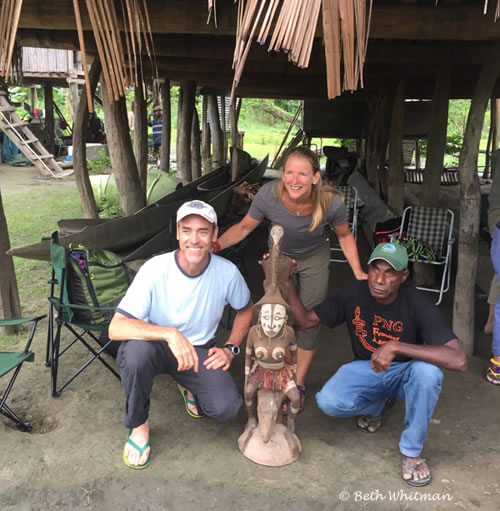 We spent one evening in the local spirit haus where a drumming and flute performance took place. What I found even more fascinating, however, were the two men who came into the spirit haus after the performance started. They sat down next to one of the fires that was burning and promptly cracked the shell of a turtle with a machete and began cooking the meat in the open flame. They sat and ate while rhythmic drumming played in the background. It was such a magical moment.
Here's the spirit haus during the day. It's interesting to note that women are not allowed in a spirit haus. Except for tourists 🙂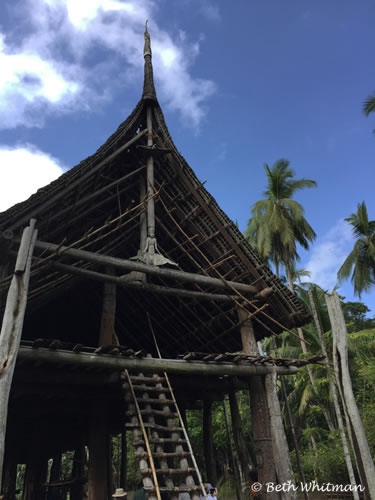 Not all tour companies offer the chance to go to the Sepik, but we do! Our next Papua New Guinea tour is next August. The timing coincides with the Mt. Hagen Show Singsing – one of the most amazing events you'll ever see (more on that in a future post).
This tour is already 2/3 full so if you're considering joining us, register now so you don't miss out.
Be Bold,
Beth
Want to stay up-to-date on all things Wanderlust? Follow me on Facebook, Instagram or RSS/email.