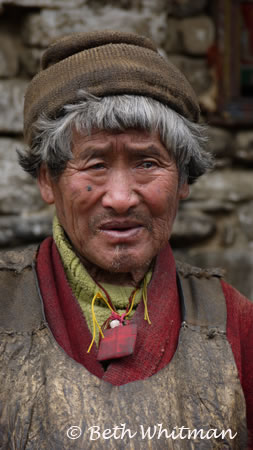 I thoroughly enjoyed the "hiking" aspect of our Eastern Bhutan trek (mountains, fresh air, the exercise) but, truth-be-told, I was most interested in this region because of the people.
The extreme eastern part of Bhutan is populated by the Brokpas. This ethnic group is a semi-nomadic tribe and, while the word brokpa literally can be translated into "nomad" or "herder", this word has been applied to this group in the Merak and Sakten region of Bhutan.
The Brokpas speak Sharchop, which is a different language than that spoken by most Bhutanese. They rely on farming and yaks: for clothing, food and transportation. They are easily recognized by their jackets (note the woven red outerwear) and their yak hats – with the "downspouts" that keep the rain off their head and body.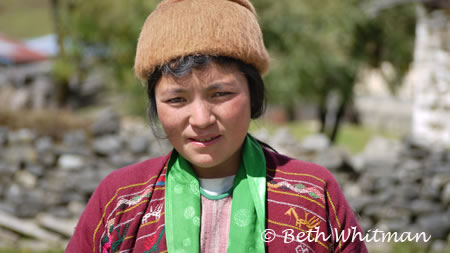 This young woman was the caretaker at the dzong (temple) in Sakten.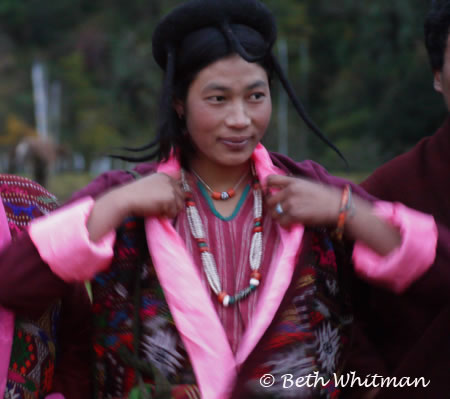 This woman was part of a group of singers and dancers who came to entertain us in the late afternoon. Notice the yak hat she's wearing. The twisted lengths of yak hair act as downspouts to keep the rain away from their head and neck.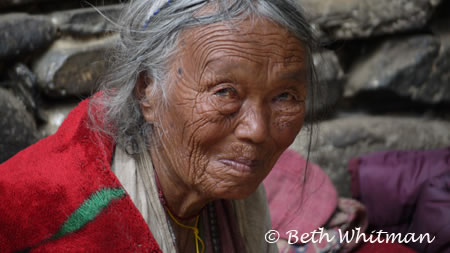 This old woman was actually the wife of the man in the top photo. We entered their house in search of purchasing a yak hat. While we had been told that this woman was ill, when I sported the hat myself, she started laughing. It was a priceless moment.
After sorting through these images, I was struck by a feeling of wanting to return to this area immediately. But alas, I will have to wait until I do another tour there, likely in early 2012. Interested in joining me? Shoot me a note: beth (at) wanderlustandlipstick (dot) com.
See more lovely photos at DeliciousBaby's Photo Friday!
Travel Well!
Beth
Related Links:
Eastern Bhutan Merak & Sakten Trek Day 4
Eastern Bhutan Merak & Sakten Trek Day 3
Eastern Bhutan Merak & Sakten Trek Day 2
Eastern Bhutan Merak & Sakten Trek Day 1
Bhutan Tours