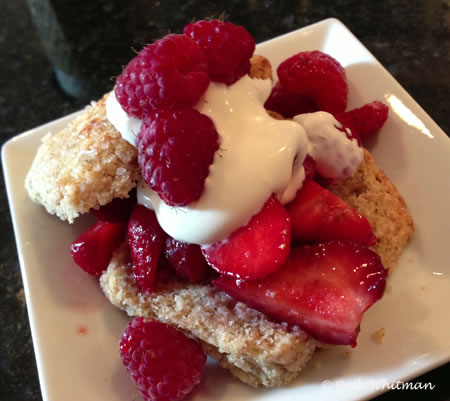 As part of our Seattle Culinary Tour, we had a cooking class/demonstration at Diane's Market Kitchen.
What a hoot!
The class is about so much more than the food as Diane is one spunky lady with wonderful stories to tell and great life lessons to teach. (Take her class and you'll see for yourself.)
The space is intimate (there's seating for just 12) but it's just the right size as it feels like a private party in someone's house (because everyone congregates around the kitchen at a party anyway, right?).
The group was warmly welcomed by Diane who immediately launched into her life story and poured some F2 coffee from Fonte. Fonte is located on First Avenue near the beloved Fran's Chocolates. We stopped in post-cooking class and bought coffee at Fonte and salted caramels at Fran's!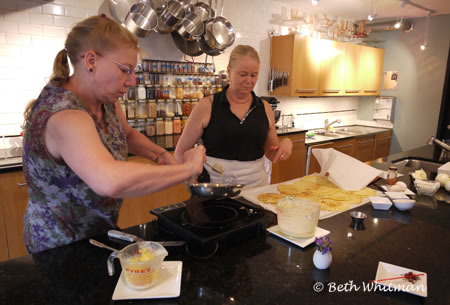 After being properly fueled, we had a chance to pour and cook our own crepes (NOT as hard as you'd think) from the batter Diane had prepared in advance.
Diane uses a magnetic induction cooktop for her classes. Never having seen one of these before, I was both fascinated and impressed by how easy it was to cook the crepes using this. (Don't know about induction cooking? It uses magnets to heat the top and is only "on" when the pan is touching the stove.)
So, with the crepes made and lined up, we the had a chance to fill them with shrimp and roll 'em up. While the crepes baked, we enjoyed some shortcakes with raspberries, strawberries, and whipped cream (top photo).
A couple of us vegetarians ate squash-filled crepes 🙂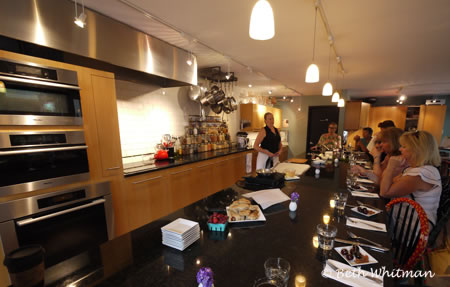 Diane's Market Kitchen is located just south of Pike Place Market. Afterward, we walked up to nearby World Spice, The Spanish Table, Fonte, and Fran's. Jeeze, we ARE an excellent food town, aren't we?
We have a waiting list for the 2014 Seattle Culinary Tour and I'd love to add you. Dates will likely be in June and will be announced soon. Interested? Please send me a note using this Contact Us form.
Travel Well,
Beth