The first time I sat down to a meal in Burma and ordered a set menu, I was surprised that everything arrived on the table at the same time. Appetizer, soup, entree and dessert all beautifully presented on a tray. As someone who likes to eat her hot dishes hot, this was a bit of an issue. Impossible really. Unless I wanted to eat really quickly – which I didn't. But the meal was good none-the-less.
I enjoy food at markets far more than a big sit down meal. It's likely because I'm not a big eater and prefer to eat small amounts of food throughout the day. For this, the markets in Burma are pretty darned good.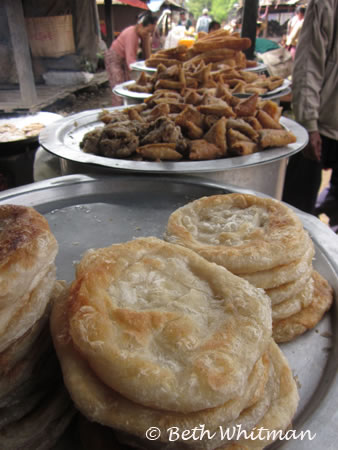 Burmese food is influenced heavily by India and China – both of which border this tiny country. The fried dough above can be most likened to the parathas of India – next to watermelon, one of my favorite foods ever.
You can't really go wrong with fried food – eh? I mean, fried food just tastes good (especially to American palettes). But unless it's been sitting for a long time, you can be pretty certain that you're not going to get sick because some micro-organisms decided to hang out in your food.
The above are little pockets of fried dough filled with meat (I passed on these).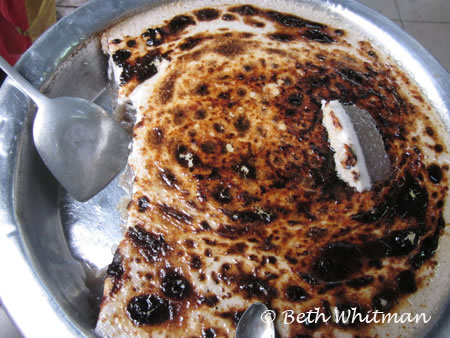 This is a sweet snack made from sago. For anyone who's tried sago, you know that it has a rubbery texture (imagine biting into an inch of dried Elmer's glue) and very little taste. Before I knew it, while my guide was explaining what this was, the vendor had a spoonful of it shoved into my mouth.
My first thought was how many other people had she done that to with the same spoon? Ah well. The taste was not bad. It was sugary enough to be pleasant and the sago was cut with something that made it pudding-like than rubbery.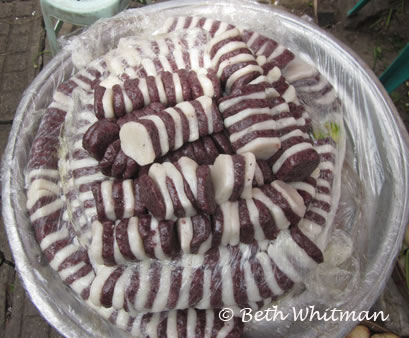 I desperately wanted this to be Oreo cookie-like or those rolls of black and white cookies that your mom used to make. It obviously wasn't. And I never tried it. But it was the closest a snack came to resembling something I could relate to at home.
Guess what this is. Not liver. Not pudding pops. It's black tofu. This is a specialty among some of the tribes. Not so appealing to me – I never could bring myself to try it. (I'm such a wimp.)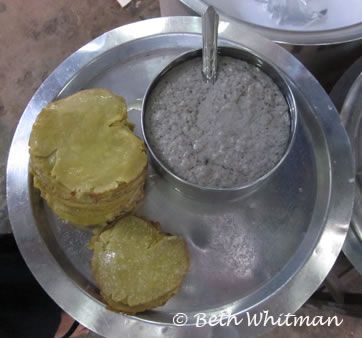 My guide explained to me that this was an addictive snack. Literally addictive. This disc is pounded down from a chestnut-like something or other (he didn't know an English word for it). I suppose that like betel nut, it's a mild stimulant that keeps ya coming back for more.
"Do you know what this is?" My guide asked. I picked up the bowl and brought it to my nose to smell. "NO!" I'm not sure what he thought I was going to do with it, but I let it drop from my nose and asked what it was. "Boiled ants."
Oh gawd. I get shivers now just looking at that photo and imagining eating a scoopful.
(Aren't you glad I left that one 'til last?)
Join me in the Fall of 2012 for the women-only tour to Burma. You'll get to experience all this (and more) for yourself 🙂
Travel Well,
Beth
Related links:
Burma Photos (Part I – Temples)
Burma Photos (Part II – People)
Women-only Tour to Burma (Myanmar)
Burma Photo Gallery