Vietnam has a motorbike problem. There are simply too many of them (a 2010 report suggests there are 25 million registered bikes). They're a source for pollution in Saigon and Hanoi and the cause of more than 15,000 deaths/year due to lax traffic and helmet laws (oh, and really bad drivers).
Still, it's completely fascinating to see just what people can do with and on their motorbikes. They're used for transporting goods and people as well as setting up impromptu shops on the side of the road. Entire families (of 4, 5 and 6 people) can be seen cruising on a 125cc bike. I kid you not.
This was definitely the most unusual sight I've seen with regards to a motorbike in Vietnam.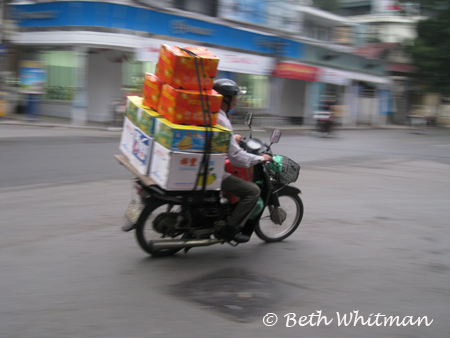 One of the things that impresses me most is the ability for people to carry pretty much anything on their motorbike.
Yes, I realize it's due to the lax laws that this is even allowed, but it certainly points to a can-do attitude, doesn't it? I mean, a person with a motorcycle in the U.S. would never consider loading up their bike with anything more than their Touratech or Harley-branded bags.
At one time, I only owned a motorcycle. And that would mean trips to the grocery store and returning home with a baguette protruding from my saddle bag. An odd sight in Seattle perhaps, but not in most parts of the world.
I even remember a motorcycle dealer giving me a hard time for wearing a backpack while I rode. I wanted to say, "Man, you gotta get yourself to Vietnam to see what THEY'RE carrying."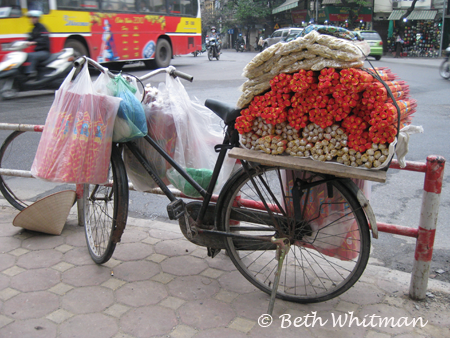 I've been traveling to Vietnam for more than 20 years. While the trend has definitely moved toward more people owning cars and fewer relying on motorbikes and even fewer relying on bicycles, it's still not uncommon to see people going to market selling flowers or other goods (like the incense, above) from the back of their "vehicles."

This woman sets up shop around Hoan Kiem Lake in Hanoi selling flowers and vegetables from her baskets.
And Cambodia, Vietnam's poorer neighbor, still has it's fair share of roving bicycle shops, like this woman in Siem Reap.
What's the most interesting thing you've seen piled on a motorbike or bicycle during your travels?
*****
Interested in going to Vietnam and Cambodia? Check out WanderTours. We regularly run trips to this part of the world!
Travel Well,
Beth
Related links:
Buddhism in Vietnam
Vietnam & Cambodia Women-only Tour