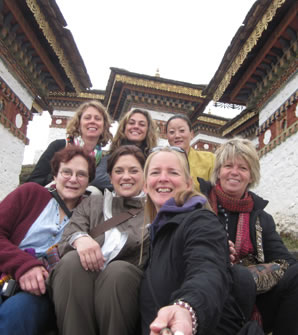 Details for the Bhutan Women-only Cultural Tour for the spring of 2013 are now available!
Register by July 15 and receive a free copy of Matthieu Ricard's Bhutan: The Land of Serenity ($65 value).
This 12-day tour gives participants the rare chance to witness the Paro Festival which features the unfurling of the country's largest thongdrel (banner). Occurring in the middle of the night, this sacred event is attended by thousands of Bhutanese. It's believed that just witnessing this festival, you'll rid yourself of a lifetime of sins!
Other  unique cultural aspects of this Buddhist Kingdom featured during this tour are visits to impressive dzongs (temples), ancient villages, monasteries and a nunnery. In addition to the Paro Festival, a highlight is the hike to Tiger's Nest.
Bhutan is located in the heart of the Himalayas and offers breathtaking views of mountain ranges as well as Phoblika Valley, considered to be the most beautiful valley in all the Himalayas.
Details:
Limited to: 15 women
Tour leader: Beth Whitman
Land costs: $4,295
Flight from Bangkok to Paro: $900
Visit the WanderTours site for the full itinerary and inclusions for this women-only tour to Bhutan.
Travel Well,
Beth
Related links:
Paro Festival in Bhutan ~ Photo of the Day
Bhutan Re-imagined