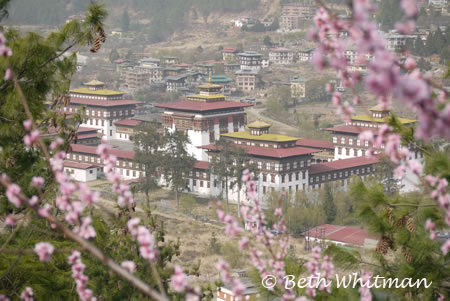 Remember that photo workshop in Hawaii I mentioned last week? I think it might have sunk in!
This is my 7th trip to Bhutan and while I never feel like I've seen it all, I do find myself taking fewer photos because I know what I've got in my stockpile already.
But on the first day of this trip, when I thought about snapping some pics, I started looking at things a bit differently. I took a few extra moments to look for a unique angle or perspective on things that I've seen at least 6 times already.
I caught the Parliament Building (above) through some Cherry Blossom trees. I might have had a better angle if I were a few inches taller because even holding the camera over my head, I couldn't get the exact shot I was looking for (would have preferred fewer blossoms on the bottom).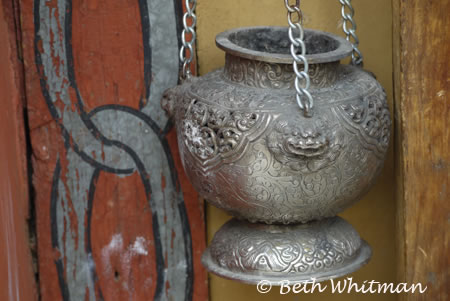 I noticed this bowl hanging outside the temple of a nunnery in Thimphu. What I loved was that the links in the handle of the bowl matched those in the painting on the wall.
That was Day 1. We've got 10 more ahead of us on this Buddhism-focused tour to Bhutan.
Many more stories and photos to come…
Travel Well,
Beth
Related links:
Bhutan Laya Trek Photos (part II)
Bhutan Laya Trek Photos (part I)
Best Books on Bhutan