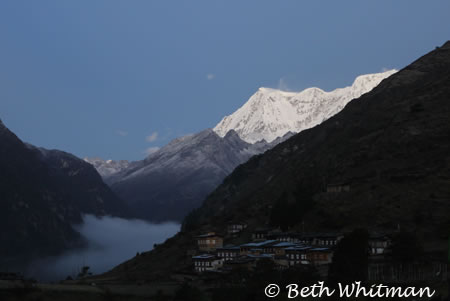 I'm diving in to show you pics of the middle portion of our trek because THIS was the most beautiful part of the entire journey.
We arrived in the village of Laya on Day 3 of the Bhutan trek. It wasn't a pretty day – it had been raining and the surrounding mountains were covered in clouds. As a matter of fact, we had no idea these dramatic mountains were right in front of us.
At more than 12,000 feet, Laya is one of the highest villages in all of Bhutan and it was cold. The rain that fell on the tents overnight frosted up, making it hard for our porters to wrap up camp the day we left.
When we awoke on our 2nd morning, Tiger Mountain (above) was in full view just as the sun was rising. It was our first peek at this mountain. Debby and I were especially excited because we have a Tiger Mountain not far from where we each live in Seattle. But this looked nothing like "our" mountain. This was amazing! I still get chicken skin looking at that photo. And with the village homes just below, it's a scene I could get used to seeing every day.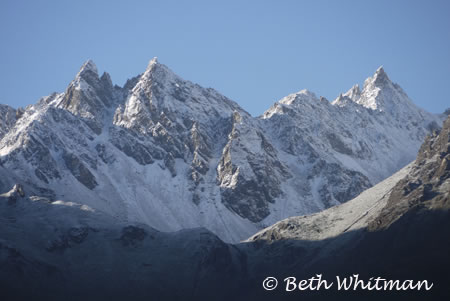 Just to the west, this mountain range was lit up each morning as the sun rose. It took my breath away the first morning I saw it. I wasn't expecting it – though I should have realized that the overnight rain we had at camp would have dropped snow up top.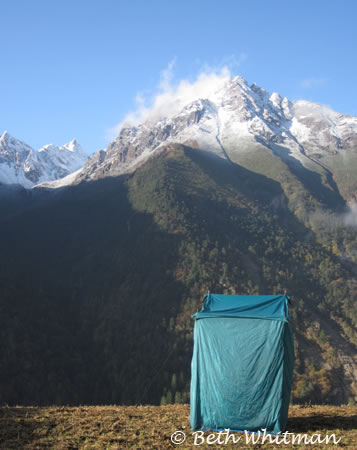 The best view might have been from the pit toilet that was built for us 🙂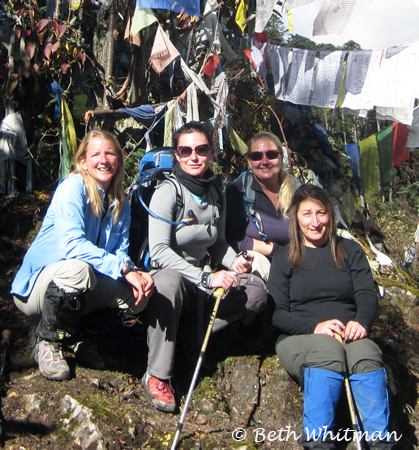 By the time we were returning back to our starting point on the trek, the sun was out and it was pretty smooth sailing. We stopped for this pic at the highest pass on the trek.
This was my second trek in Bhutan. So, how did it compare to the Eastern Bhutan trek last year? It was actually a bit easier. This is likely because the weather cooperated more for us and the amount of time spent trekking each day was shorter. Oddly enough, this 7-day Gasa-Laya Trek seemed shorter than the 6-day Merak-Sakten Trek I did last fall. Perhaps it was because it was a bit easier. Or perhaps it was because I had a better idea as to what I was getting into! There's nothing like being prepared – eh?
Both treks had equally stunning views, landscape and encounters with the locals. But really, no matter where you go, I don't think you can go wrong in Bhutan.
Travel Well!
Beth
Related links:
Going to the Temple and We're Gonna Get Married
Best Books on Bhutan