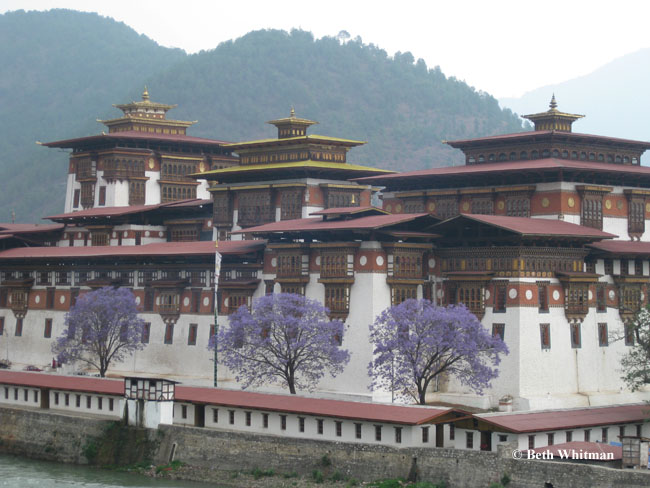 After our group's first couple of days in Paro and Thimphu, we drove east and visited Punakha and Trongsa. Heading farther into the mountains, I got the sense that we were being enveloped in a carpet of greenery. This part of Bhutan is like the Pacific Northwest on steroids.
One of the country's most beautiful dzong's (fortress/monastery) is located in Punakha at the confluence of two rivers (pictured above). We were fortunate to be there to see the amazing jacaranda trees in full bloom which provided a perfect contrast to the building's white walls.
Terraced fields dotted the landscape with the Himalayan foothills as a backdrop.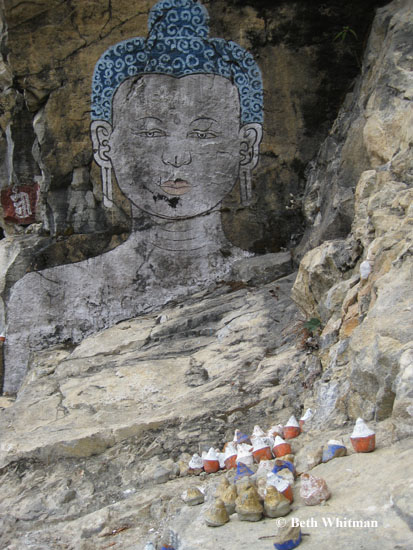 Along the way, we stopped to take a few photos at a location where the movie Travellers and Magicians was filmed. It seems the crew had been having a string of bad luck during the filming until they took some time to create these paintings and say some blessings. In this photo, not only are there the original paintings, but people now place the remains of cremated loved ones in little clay pots at this auspicious location.
At the end of a long day of driving, our group kicked back and enjoyed the amazing view and weather.
The view from where we were sipping cocktails and mango juice was the Trongsa Dzong, nestled between the mountains in this valley.
Next time, we'll be heading further east, towards Bumthang, which is located in the center of the country.
Travel Well,
Beth
Don't miss more stories of adventure in Bhutan, please subscribe to my RSS feed or add your email at right for regular updates.
Related links:
Bhutan April, 2009 Update 1
Bhutan Tour – Buddhism-focused co-ed trip
Bhutan Tour – Photography trip with Brenda Tharp
Beth's Bhutan Photo Gallery