When I visited here during our tour in October, it was my 2nd visit to Bagan. With Myanmar (Burma) in its very early stages of tourist development, it's one of the few places travelers visit. That means there are a lot of people there all trying to get the same spectacular sunset shots
There were many more people there than just the year prior. What the photo above doesn't show are the hundred or so people around me, all trying to elbow their way to a good viewing spot. For those of you who have visited Angkor Wat, Bagan currently has bout 1/10th the number of tourists but this is going to explode in the coming years.
Still the region is spectacular and it's on many people's lists as one of the highlights of all their travels.
Bagan is where thousands of Buddhist temples jut up from the land. From the top of some of the taller temples, you can literally see hundreds of them with the naked eye.
Built between the 9th and 13th centuries, this was the first kingdom to unify the regions, which was then known as Pagan. At one time there were more than 10,000 of these temples, pagodas and monasteries that filled the area.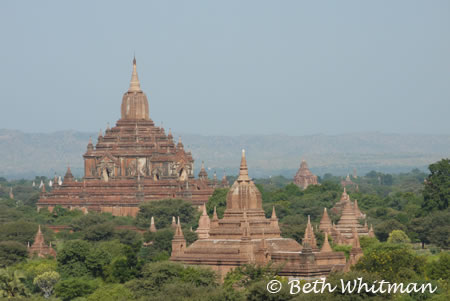 Though it's most dramatic to see these at sunrise or sunset, it's still very impressive to look out across the landscape and see them stretch for miles midday (though it's HOT).
(Note that you CAN take a hot air balloon ride in the morning for sunset but it's my understanding that you have to pay up front and if the weather doesn't cooperate and the balloon can't go up, you're out of luck.)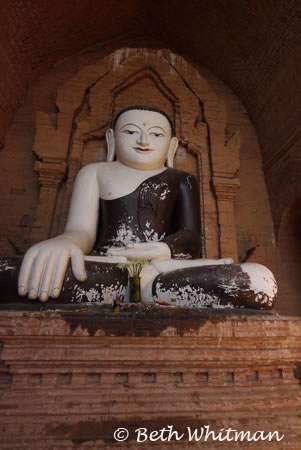 Walk inside some of the temples and you'll find Buddha statues, many are a story or more high.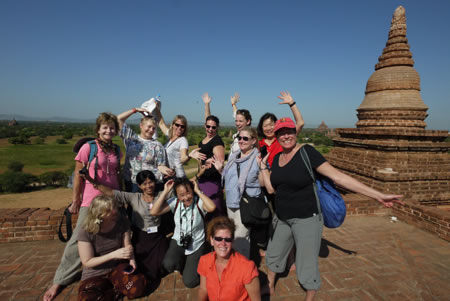 Most impressive is probably all the fun people there (kidding). Here's our group having fun on the top of one of the temples 🙂
Our 2012 tour sold out but we're finalizing details for the fall, 2013 tour and if you're interested, drop me a line and I'll let you know when the itinerary's up and running: beth (at) wandertours (dot) com.
Travel Well,
Beth
Related links:
Shwedagon Pagoda
Burma Photos – Temples
Burma Photos – People
Burma Photos – Food