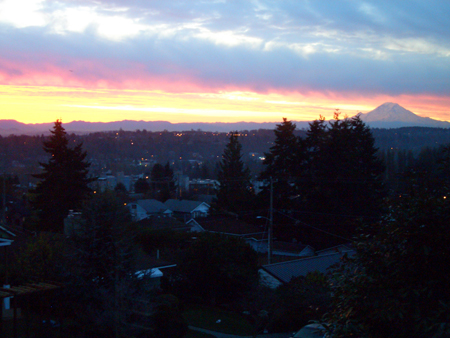 I know, I've been back for more than a week and I haven't really mentioned much about my 5 weeks of travel as I led tours in India and Bhutan. I'm not trying to repress it, only absorb it and shake off the jet lag that has kept me up and down for much of the time I've been back.
(View from my living room of Mt. Rainier)
I'm SO happy to be in Seattle again, even though it's been pouring rain every day. There have been days and nights with wind gusts of nearly 50 mph and I've been happily standing at my window watching the drama. I far prefer sunshine over gray skies, but the change and the reassurance that I'm indeed in the Pacific Northwest has been lovely.
But what about those 5 weeks?
The first 2+ weeks were spent in India with a group of (lucky) 13 gals from the U.S., Canada and Australia. I couldn't have asked for a better group for this inaugural trip to India with Wanderlust and Lipstick – the first  of many, I hope.
Given the busy (and sometimes very tight) schedule, the group held up amazingly well. In one day, for example, we rose at 5am to hop on camels to watch the sun rise over the dunes in Rajasthan. We then drove for much of the day to our next destination, checked into our hotel and 30 minutes later were in jeeps, driving through India's version of the outback, watching antelope and peacocks and visiting a Bishnoi village – a tribal group that has appointed themselves protectors of the environment.
And then there was Bhutan.
Much of this group was from the Pacific Northwest with a few exceptions. My most treasured participant was Maddie, a nine-year-old from North Carolina traveling with her mom. Though jet lag had the better of her early on in the trip, once she shook that off, she was the most intrepid traveler among us. On a long walk through a village one day, the local school kids were walking home and immediately took to Maddie – holding her hand the entire way – and swapping addresses when we all parted.
Jon was part of the Bhutan group so we weren't separated for the entire time. But it was still hard being away from home for so long. Emails piled up. Stacks of mail accumulated. Phone calls got missed. And items that got left in the fridge grew mold. Thank you, Angela, for handling the biz! And thanks to our housesitters who took care of the birdy and plants.
But the downside is so minor considering the vast experiences I've just tucked away in my travel bucket.
I'll be posting photos and chatting more about some of my favorite experiences in the coming weeks. In the meantime, here are some of images to leave you with…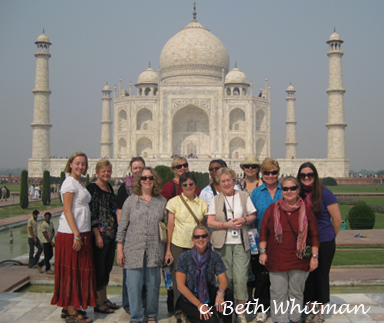 This is our amazing group of women in front of the Taj Mahal. Our guide patiently took photos with everyone's camera. Girls Rock!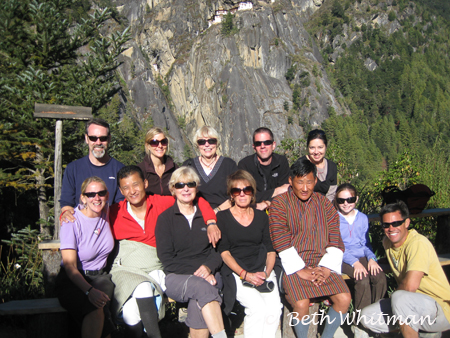 And here's the intrepid Bhutan group posing in front of Tiger's Nest. This was my first group in which everyone made it to the top. Seriously not an easy feat but we did it!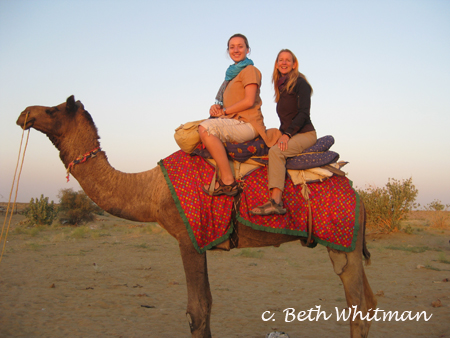 I was totally surprised at how much I dug riding a camel. I would LOVE to go on a full-on camel safari that lasts more than a couple of hours. This is Lauren and I as we watch the sun rise over the dunes in Rajasthan. Simply awesome!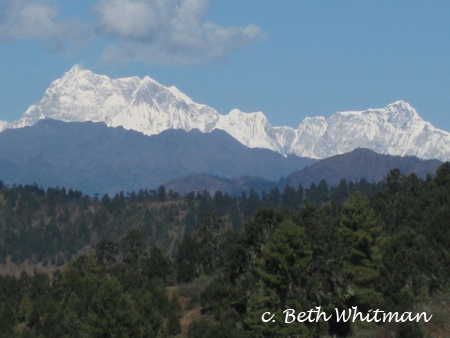 Though this was the 3rd time I had visited Bhutan, it was the first time I was there in the fall. This is the time of year when the skies are (usually) clear and the Himalayas are out in full force. This is Bhutan's highest peak, Gangkhar Puensum. Wow.
OK – all for now.
This Thanksgiving, in addition to chowing down with friends, I'll be busy working on Passports with Purpose. Please join us this year so that we can build a school in Cambodia!
Travel Well!
Beth