When I emailed my friend Leslie, who lives in Africa most of the year (and runs Mamba Tembo Tours), that I had heard people refer to Zambia as Africa-light, she emailed back and said that was interesting because most people call South Africa, Africa-light.
HA! It was actually two South Africans who told me this about Zambia. Now that's funny. If South Africans think Zambia is Africa-light, I now wonder what they think of their own country.
But going on the theme of "light," I thought I'd share with you the lighter side of the country in some images.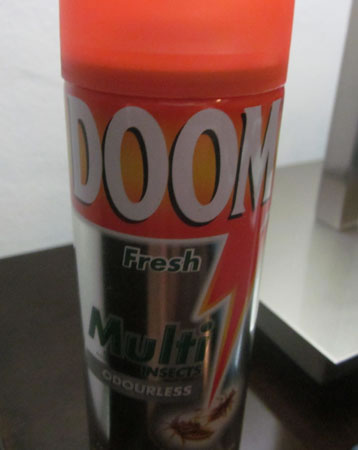 I thought it was an ominous sign when I found my hotel room equipped with a can of DOOM to scare away the insects. And then I found this…
Hmm, they make those mossies big in Zambia, don't they?
I think we might all be a bit happier if we encountered this on a daily basis. I discovered this happy puppy roll of toilet paper in a restaurant bathroom.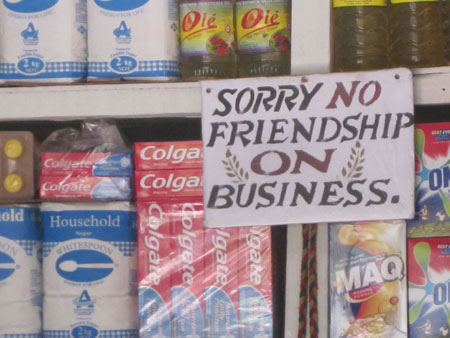 A good reminder to never mix business and pleasure. I spotted this in a little shop during our Lusaka Komboni Tour.
If you're from Jersey, surely you know the significance of this all the way in Lusaka. We Jersey-ites yield a lot of influence, don't we?
*****
I visited Zambia for the opening ceremony of the libraries funded by Passports with Purpose, the travel bloggers fundraiser for which I'm a co-founder. Expedia kindly sponsored this trip to Zambia but funds ($90,000) to build the libraries came during our 2011 fundraiser. In addition to the hundreds of travel bloggers and thousands of donors who contributed to this two-week event, our 2011 sponsors made this happen. This includes Round the World with Us, TravellersPoint and HomeAway.
Passports with Purpose would NOT be such a huge success without the help of this growing community of supporters. Join us later this year for the 2012 fundraiser (we'll be announcing this year's beneficiary on June 16 at TBEX, the annual travel bloggers conference).
Travel Well,
Beth
Related links:
Komboni Tour of Lusaka, Zambia
We Bought a Library (in Zambia)