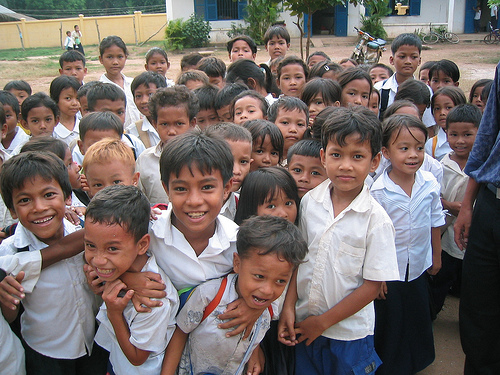 Debbie called me yesterday afternoon and said, "I'm levitating." I knew exactly what she was talking about.
Words cannot convey the amount of joy and humility I feel today. You all helped us build a school in Cambodia! And not only that – but when the money ($13,000) for the school came in to Passports with Purpose in the first week (of our three-week fundraiser), we chose to double our goal and increase the support at the school by providing a school nurse, vegetable garden and water filter system.
The fundraiser ended on Monday night, December 21. An early tally is that we brought in over $26,750. But we know more is coming from individual donors as well as matching funds from companies.
I'm simply overwhelmed by the generosity of our travel community and your ability to harness social networking and the internet to make this happen – especially in this economy. Thank you from the bottom of my heart!
What a Happy Christmas this will be for me because I can delight in knowing hundreds of school kids will soon be attending the Passport School in rural northern Cambodia, where paved roads don't exist. The school is scheduled to open in the summer of 2010.
The Passports with Purpose founders, myself, Debbie Dubrow (DeliciousBaby), Michelle Duffy (WanderMom) and Pam Mandel (NerdsEyeView), plan to go to Cambodia to see the school for ourselves. I'm currently organizing the tour. Please let me know if you'd like to come with us! I don't have details at this time, but can keep you informed as information unfolds for the journey.
Travel Well!
Beth
Join other Wanderlusters and stay updated on travel-related items by subscribing via email or RSS feed.
Photo credit: Cambodia4kids.org