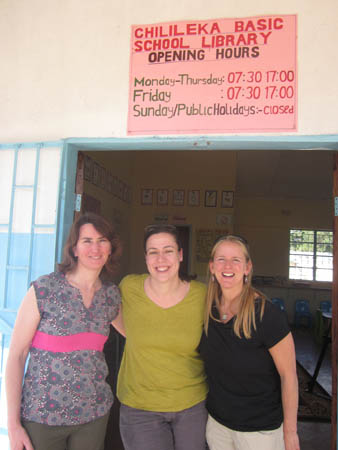 Actually, YOU bought a library. And it was officially 2 libraries that were funded when you donated to Passports with Purpose in 2011 during our annual 2-week fundraiser.
As co-founders, Michelle Duffy of WanderMom, Debbie Dubrow of DeliciousBaby and I got to visit one of the libraries during an opening ceremony. (Sadly, our other co-founders, Pam Mandel of NerdsEyeView and Meg Paynor, our amazing PR person, couldn't make the journey due to prior commitments.)
It's really not fair to have to put into words what we experienced at the library yesterday. I know that I can't adequately describe it, and in attempting to do so, it somehow diminishes it for me. As if it should remain a private experience – a perfect moment, as Spalding Gray might say – that should remain as an internal thought. I'm better at showing you what I experienced in photos and what I can show and tell you is this…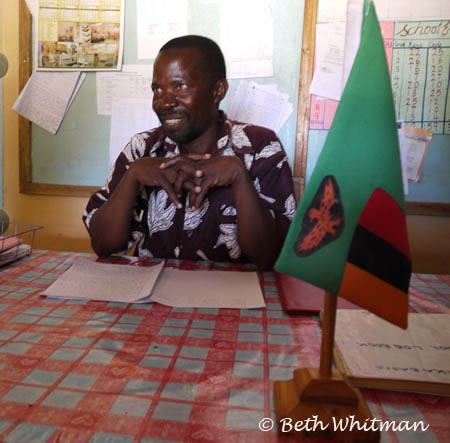 The children, teachers, headmaster (above), village chief and community are thrilled to have a library at the school. The headmaster spent some time with us explaining how important it is that the library is there for the children and the long-term impact for both the kids and the community.
We were greeted with traditional dancing and singing from community members including "Grandmother," whose voice bellowed in the small library as she sang and ululated (in that way that even if you haven't been to Africa you know what I'm talking about).
The children welcomed us with a song that quite literally brought tears to our eyes. They sang loudly and if I didn't know better, I would have thought I was listening to a well-trained chorus that was getting ready to head in to the recording studio.
The teachers had painstakingly put together a program that included examples of the children practicing their spelling on their own personal chalkboards, putting sentences together using sheets of paper with various nouns and verbs printed out, and reading from books that had been supplied as part of the library program.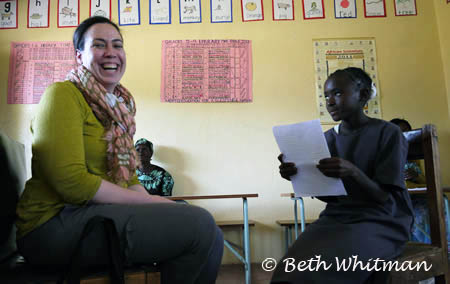 We spent time just sitting with the kids: a young girl snuggled up to Michelle on a tiny seat; a teenager interviewed Debbie about why we are helping them; and I passed around my small digital camera so the kids could take photos of each other and feel some creative power in their own hands.
The day before visiting the library, we had lunch with a few women from the Room to Read office in Lusaka. These are the ones who really are making this program run in Zambia and are responsible for the 315 libraries in the country.
While talking to these women, they described some very specific instances of how literacy is so absolutely necessary for the success of the young people (and, ultimately, the country). Intellectually, I know it's important. But there's nothing like hearing about how these children now have a place to go after school, and how the adults in their lives now want to learn to read so that they can keep up with the kids. It's then that you realize what a big deal it is for these children to have access to reading materials, likely for the first time in their lives.
Many people had told us that the children have nothing to do with their time outside of school and with the building of a library, they actually have a place to go – a place where they have resources to learn and to play games that focus on critical thinking.
After the children demonstrated their reading skills and we were wrapping up for the day, a few children stayed behind in the library while all the other kids went home (it was a half day). The children pulled books off the bookshelves and sat down at a table to… read.
Forget the ribbon cutting. Forget the amazing welcome we received. Forget the presentations where children practiced their spelling and numbers. Really, the moments I spent watching them do what they do best at the library made every bit of effort that I've put in to Passports with Purpose in the last 4+ years all worth it.
****
I have to give a really big shout out to Expedia for hosting us during this brief trip for the ceremony. This time spent in Zambia has so inspired me that I know it will come back to Passports with Purpose in spades as I won't be able to stop talking about it!
It was really hard to get even 3 of us together for a journey and we all had very short windows of time to get away. Given that we each spent about 70 hours of travel time getting to/from Zambia from Seattle and each had no more than 5 days on the ground, this has been an emotionally and physically draining trip. But it's all been worth it!
As for Passports with Purpose, we are in the process of choosing this year's beneficiary. We've been accepting applications for a few months now and are SO excited about the options that have come in. We'll be announcing our 2012 program in mid-June.
Travel Well,
Beth