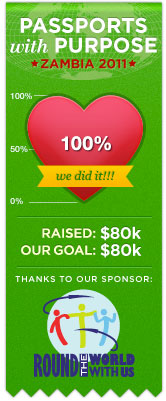 I don't even know where to start with this post. I'm pretty flooded with emotions this morning. Looking at the Passports with Purpose widget, I'm honestly in awe that we made our goal this year. A day early. It's not that I had any doubt that we'd make it, but I'm overwhelmed by the amount of support from the travel blogging community and the number of donations that have been pouring in. It's been like a fire hose.
As a side note – the Passports with Purpose founders get email alerts each time a donation is made. There were so many last night that my email got shut down by my provider because they thought I was getting spammed. Really, isn't it cool that you folks were donating at such a fast and furious pace that it shut down my email?
Even after 4 years of this, I still get goosebumps when I think about how Passports with Purpose has unfolded into a fundraiser that almost has a life of its own.
Debbie, Meg, Michelle, Pam and myself do a lot of behind the scenes work which generally starts in January, but ultimately, it's every one of you that makes this a success…
Travel blogging community – Whether you are hosting a prize, matching donations, creating an incentive program or posting about PwP on Facebook and Twitter, every mention is important and helps further the exposure and spurs on donations. THANK YOU!
Companies and properties that donate prizes – Whether you provided a backpack, an overnight hotel stay or a getaway package, every single prize adds to the effort. We're told year over year that our prizes keep getting better – and they do. THANK YOU!
Donors – Perhaps you know one of the travel bloggers hosting a prize. Maybe you stumbled across us on Facebook or saw a media mention and just thought it was a cool way to win a trip to Costa Rica. It doesn't matter how you came to PwP – you came, you gave, and you are the single most important reason why we raised $80,000 to build 2 libraries in Zambia.
By the way, the majority of our funds raised come directly from individual donors. Yup. Ten bucks at a time. THANK YOU!
Sponsors – These folks come in early and support us with a cash infusion to helps us toward our goal. This year we are so thrilled to have worked with Round the World with Us as our Platinum Sponsor, TravellersPoint as our Silver and HomeAway our Bronze Sponsor. Your support and faith in our abilities and this cause is greatly appreciate. THANK YOU!
A personal thanks to Debbie, Meg, Michelle and Pam. I learn from you all every day and am proud to call you friends and partners in this adventure. Reading Caitlin's post about how we started this made me realize that if we hadn't been fueled on a little caffeine that day this all may not have started. As I remember it, we were wrapping up a little coffee session and the idea of holding a fundraiser with the travel blogging community was one of those things that gets tossed out before a meeting ends. That one last important topic that becomes the genesis of life changing events. Now, can we all get ourselves in the same city to celebrate???
*****
While we've met our goal, there is still one day left to enter to win prizes! Don't let that big old red heart slow you down. We are looking at how those additional dollars will be put to good use through Room to Read and "our" libraries in Zambia. We'll keep you posted on those details.
Again, a slightly teary-eyed thank you from Seattle. You ALL are amazing, wonderful and fantastic. My heart is full of gratitude today for what you have contributed to make this an overwhelming success.
Travel Well,
Beth