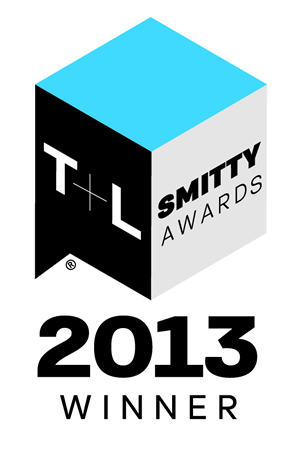 It's been a whirlwind couple of months for me that has included travel (since early March: Berlin, Bhutan, Thailand, Laos, Haiti, Miami, Kauai, NYC, New Jersey, Toronto, Albuquerque, Santa Fe), activities (hiking, eating, biking, flying, throwing dinner parties), and announcements (my involvement with Expedia's Viewfinder blog). It's been crazy, too. But it's all good!
And the announcements keep coming.
Over the weekend, while I was attending TBEX (the Travel Bloggers Conference) in Toronto, the Passports with Purpose team was honored with a SMITTY Award from Travel & Leisure.
There were hundreds of entries submitted for this award (which stands for Social Media in Travel + Tourism – plus the "y") and PwP won for the best blog in this space.
As a co-founder of the organization, I'm deeply honored that we've been recognized by a panel of judges (including Ivanka Trump!) who see what we've created over the past five+ years as worthy of such recognition.
More importantly, I loved that the award was announced at TBEX. PwP is a community fundraiser and there was no better way to announce our having won than among the same community of bloggers who make the organization a success.
If you're new to Passports with Purpose, here's what we're all about:
Each year we raise funds for a specific charity somewhere in the world. So far, we've: built a school in Cambodia; 25 homes in South India for a Dalit (untouchable) community; two libraries in Zambia; and six water wells in Haiti.
Travel bloggers procure prizes (anything from a $100 backpack to a $4,500 all-inclusive vacation) and post the description on their websites on a designated day in late November.
For two weeks, their readers have a chance to donate in $10 increments and for every $10 they get to choose an item they'd like to win.
We then randomly choose winners at the end of the fundraiser.
While we do have corporate sponsors, the majority of our funds come from those $10 donations. Last year we raised $116,000 for those water wells in Haiti!
We will be announcing this year's charity recipient soon.
In the meantime, our board members Michelle, Meg, and Mara will be in New York City this weekend to officially accept the award from Travel + Leisure (I'm in Santa Fe with my culinary group).
Yay for Passports with Purpose and a big thank you to all of those who have participated over the years and believed in the power to change the world, $10 at a time!
Travel Well,
Beth