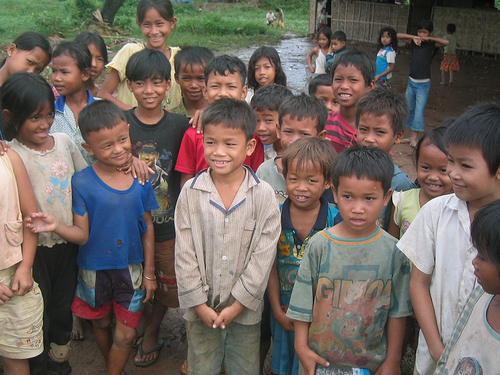 You might recall that last year, a group of Seattle-area Travel Bloggers, pulled together a little fundraiser called Passports with Purpose. Myself, along with Debbie Dubrow from DeliciousBaby, Michelle Duffy from WanderMom and Pam Mandel from NerdsEyeView, hatched a plan over coffee to raise funds for a worthy cause. We chose Heifer International and through individual donations we raised nearly $7,500. We were overjoyed! And we couldn't have exceeded our goal of $5K without your help!
This year, our goal is to build a school in Cambodia by raising $13,000!
And we humbly ask for your participation once again.
How it Works
Participating bloggers procure a prize valued at no less than $75. On November 30, the blogger posts details of the prize on their site and then alerts PwP with the corresponding URL. Prizes are then  listed on the Passports with Purpose site.
Individuals are encouraged to donate in $10 increments toward the prize(s) of their choice. It's in this way, $10 by $10, that will help us hit our goal of $13,000 to build that school!
All funds go directly to American Assistance for Cambodia (AAfC), which is a non-profit 501(c)3 registered in the U.S., and is the organization that will oversee all aspects of building the school.
See this video from ABC News on how the program benefits school children. (Get out the tissues!)
What Can You Do?
Bloggers – Procure a prize valued at $75 or more and post the details on your site on November 30th. See our guidelines for prizes. Please fill out this form in advance so we can have an idea of what's coming in. And please tell your other blogging friends that they should participate, too 🙂
Sponsors – We have 3 sponsor levels but limited spots are still available. Virtuoso has already secured the Platinum spot with a donation of $5,000! THANK YOU VIRTUOSO. We've also received commitments for the Silver spots ($500) from Raveable, HomeAway and TravellersPoint. THANK YOU ALL!
We are still able to accept 2 more Silver Spots and 3 Gold spots ($2,500).
Here are details for all levels.
Manufacturers – Got a great travel-related product that you'd like to donate? Please let us know: info (at) passportswithpurpose (dot) com. Remember, it's gotta be valued at $75+.
Readers – Pop on back on November 30 to see the list of very, very cool products and getaways for which you can donate $10 for your chance to win. Tell your friends. Tweet about it. Add it to your FaceBook page. And come back often!
OK – you know what to do now…
Travel Well!
Beth
Photo credit: cambodia4kidsorg