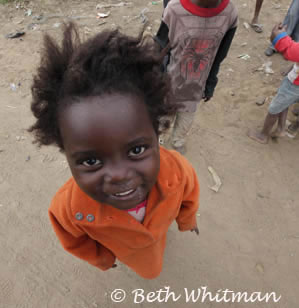 As I write this post, I'm sitting on a plane. Next to me is a couple with a toddler. The child is crying. They're showing him videos, looking at picture books, feeding him Fruit Loops and alternating between sippy cups of water and juice in an attempt to keep him quiet and from pounding on the seat in front of him.
Meanwhile, I'm looking through images of Zambia including photos of the children from a city tour in Lusaka.
I'm aware of the irony of this child's unhappiness, sitting next to me with every conceivable comfort and two loving parents while the children of Zambia, so many of them AIDS orphans, smiled, laughed and danced in our presence.
The Tour
Before setting out for the Passports with Purpose library, Debbie, Michelle and I took a half-day Komboni tour with Lusaka Experience.
A komboni is a low-income area with a high-density population. Kombonis are found all over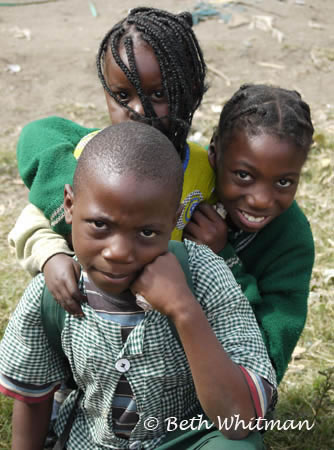 Lusaka, with an estimated 80% of the city's population living and working in these.
Basically, they're compounds – not quite closed-off sections of a city. In theory, these kombonis have all that the community needs to survive – housing, grocery stores, schools, sewage and water. The reality is that these communities are so poor that it's unlikely even basic needs are met for most residents. Schools are overcrowded and homes don't have running water (it's pumped from a communal well).
Despite this, there were signs of hope throughout the komboni we visited – called the Garden Compound because of its historical use as a large garden area.
It's unlikely that many of the children will grow up and make their way out of this komboni. But the sense of hope and happiness were still present.
Among the positive things happening here are several programs that are directly aimed at bettering the lives of the children.
The Garden Compound has a community program called Happy Face Kids that teaches children art and crafts – a place where the children can create usable household items (footballs, bags and pen holders) out of recycled materials. It's a place for the children to spend time, be creative, have someone pay attention to them and create with their own two hands.
Another program offered in the Garden Compound is Yofoso, a recreation center where the kids learn how to play sports and also attend literacy training classes (they have access to a small library).
Though these programs are very modest in size and in reach, the fact that the kids have a place to go as well as mentors who are watching out for them, is a huge deal.
One of the most memorable stops on the tour was a home that Oprah visited in 2003. At
the time, Ireland was just a young boy when his mother was interviewed by this television star. Though at the time no one from the compound really knew who Oprah was, her entourage and bodyguards must have made an impression on them.
For now there is an homage to Oprah at this home (that's Ireland, all grown up!) and the outer walls are painted with inspirational sayings.
I imagine that even now it must be hard for the residents to fully grasp who Oprah is and her influence in the world, but there's no doubt the people of the Garden Compound find some bit of hope from that visit and by the response that tourists (like us) have when told of her visit.
The tour company requests that no one give money to the children. Even so, I found it remarkable that no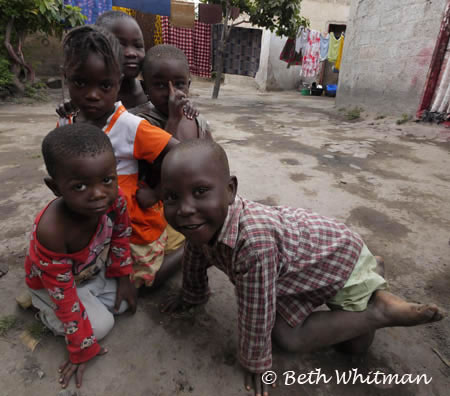 child asked for anything – no money, pens or chocolates. Instead, all they wanted was to have their photos taken.
Despite the incredible poverty, children are children. And where there are children, there's laughter, and curiosity, singing and dancing. One group of kids gathered to show off their dancing prowess. Other kids simply posed, smiled and then giggled on and on when we showed them their photos on our digital cameras.
*****
Perhaps it all started with Oprah but I have to believe that there has been, and will continue to be, some positive effect on the Garden Compound as foreigners take the time to visit and give these residents some much needed attention. I've seen it before in other volunteer programs – when outsiders pay attention to an individual, a family, an orphanage or a community, everyone pays more attention.
(During a visit to an orphanage in Vietnam, I inquired about the healthcare of one of the children who had been in a wheelchair all his life. Though my donation to the orphanage was quite modest, on subsequent visits, I learned that the staff had begun giving him extra vitamins and paying more attention to him. Within a years' time, he was walking with help. I think all it took was me being interested and asking a few questions.)
*****
As I scroll through my images of Zambia on this flight, I am struck with a profound sense of sadness. Not only for these children of Africa, but for the toddler next to me who will, fortunately, be spoiled rotten by his parents, grandparents and extended family. He'll never know the poverty these kids experience, but I'm also not so sure he's going to be dancing in the streets or fall over in fits of laughter at digital images of himself.
*****
The purpose of this trip to Zambia was to visit the opening ceremony of one of the libraries that was funded last year by Passports with Purpose, the travel bloggers fundraiser. I, along with Michelle Duffy of WanderMom, Debbie Dubrow of DeliciousBaby and Pam Mandel of NerdsEyeView, co-founded this fundraiser in 2008 as a way to give back to the communities we visit in the world and as a way to ignite the travel blogging community to do the same. We're joined by Meg Paynor as our PR person and we all make a merry band of travelers and cupcake eaters.
Thank you to Expedia for making this trip happen for us. Passports with Purpose as a whole is indebted to you. We're well aware that the first-hand stories we'll get to tell about this journey will help raise awareness of our organization as well as the needs of those less fortunate in the world.
Travel Well,
Beth
Related links:
We Bought a Library (in Zambia)