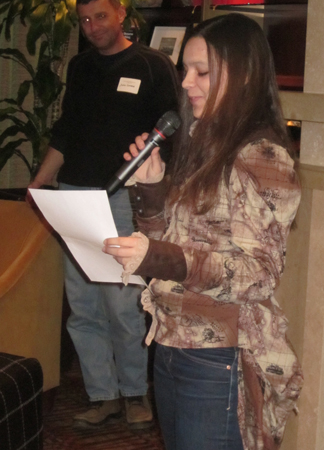 We had a kickoff party for Passports with Purpose last week at Hotel 1000. There were probably 40 somethin' people there including Teresa and Bella (pictured left) from this year's Platinum Sponsor, Round the World with Us.
I've know about RTW with Us for awhile – this family (including mom, a significant other, 3 kids and a kid's friend) who traveled around the world raising money and supporting small and large scale projects that help orphans, earthquake survivors, children, HIV patients, abused kids and entire communities.
But, really? There's nothing like meeting a couple of the folks behind such an effort to make you realize their complete passion for what they do. It was even more touching to hear that 12-year-old Bella was reluctant at first to pull up her roots but that she eventually came around to really enjoy the journey. She saw the immediate effects of their labors.
She gave a touching speech at the kickoff party and they showed a video of their journey.
And guess what? Old stoic here was all teared up.
So now that your heartstrings are pulled a little, I want to remind you that Passports with Purpose runs through this week only. That means you've got just through Friday night to donate to win any one of the most amazing prizes that have been procured for this year's fundraiser to build 2 libraries in Zambia through Room to Read.
Click here for the full list of prizes. But here's a sampling of some the prizes that I wish I could win (as a co-founder, I can't enter, darnit):
My hosted prize is 5 nights on the Big Island of Hawaii split between 2 beautiful hotels: the Fairmont Orchid and the Hilton Waikoloa Village. Value: $1,692.
I'm a jewelry gal, so I'm a bit partial to this Tahitian Pearl necklace hosted by Celeste Brash at Coconut Radio. Value: $230
I'd also likely bid on the 110,000 Hyatt Gold Passport Points from Ric at Boarding Area. This would give me lots of flexibility with my travel. Value: $2,640
And I'd HAVE to place my bid for $100 in goods from Minimus hosted by Harriet Baskas at Stuck at the Airport. I love the travel-sized items you can find on Mimimus! Value: $100
I might even try for a staycation and opt for an overnight at the Andra Hotel in Seattle hosted by Sheri at PNW Journeys. Value: $269
But, man, really there's something for everyone.
Donate for yourself. Donate with others in mind. Or share the link to the list of prizes with your friends and family. However you help us, please do. We really want to get those libraries built 🙂
Travel Well,
Beth
Related Links:
Photo of the Day: Zambia
Help Us Build Libraries!