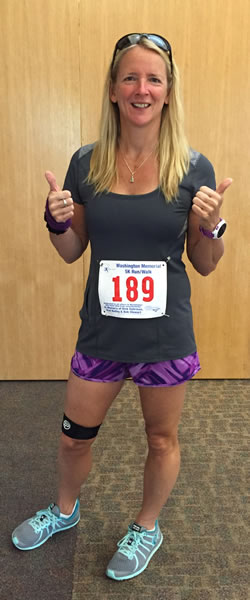 When I was in my early 40's, I always thought of myself as still 40, not any older than that. It wasn't because I didn't want to be "in" my 40's. I just didn't FEEL (or look, hopefully) like I was "in" my 40's. So for a few years, I enjoyed being just 40.
This month, I'm turning 50. It's not like I'm trying to rush the process, but for awhile now when someone has asked how old I am, I proudly say I'm turning 50 this year. After all, 49 seems like I'm lying. Like the old joke about being 29.
I've given this quite a bit of thought. After all, a lot of people get depressed when they hit a milestone birthday year. But me? All I can think is, "Whoo hoo, I'm half way there!"
So why do I care so little about turning 50?
I met someone on a plane once who told me he had completed eight marathons. At the time (just a few years ago), that was unthinkable to me. How could someone possibly do ONE marathon let alone eight in one lifetime. Shortly after that I read a quote from Richard Branson about how he always has a goal he works towards in order to stay physically fit. At the time I was training for the Snowman Trek in Bhutan and that quote made total sense to me. I was working out at least six days a week with the goal of being able to complete that trek.
But after completing the Snowman, I knew that, like Richard Branson, I needed another goal to work toward in order to maintain (or exceed) my fitness level. I wanted that big goal but knew that it was going to take a lot of small steps (no pun intended) to get there.
When you're working toward something big, you've got both incremental and larger goals you have to complete.
Right now, I'm training for my first marathon in December. It will be exactly one month after I've turned 50. And how absolutely cool is it that I can say I'm doing my first marathon at 50? I'm really proud of that.
I'm mainly so proud of that because I only started running about five years ago. Even then I did it in fits and starts and could barely push myself to do five miles.
And now 26.2 miles.
I knew this goal would require daily attention to my workouts and my diet. Every day gets
me in better shape than the day before. Which makes me feel better. Which makes me want to do more of the same the following day.
So where am I going with all this?
I've come to the conclusion that I might have felt differently about turning 50 if I didn't have the marathon as a goal. A goal that I once thought was unattainable.
A marathon? Me? No way. But now I run "long" every weekend with my longest (so far) being 20 miles. I consider this to be a minor miracle.
Some people mark their milestone birthdays with a big trip or adventure–and I'm grateful for that because many of them come on our WanderTours to mark such occasions. But this physical goal of training for a marathon has me certain I'm turning back my body's physical clock.
So, truly, when I think about turning 50, I think of it as 50-years-young. 🙂
Be Bold,
Beth
Want to stay up-to-date on all things Wanderlust? Follow me on Facebook, Twitter or RSS/email.