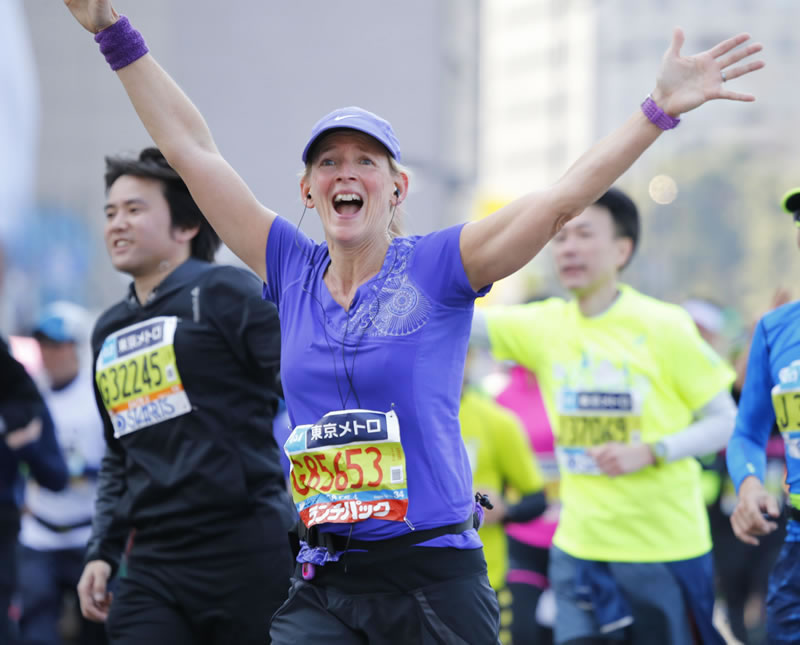 I was actually pretty nervous about running the Tokyo Marathon, my second marathon (ever) and the second in two and half months.
Why so nervous?
Well, unlike the Honolulu Marathon, which was my first big race, I had a very specific time to beat in Tokyo. I wanted to run under 4 hours and 30 minutes. When I ran Honolulu, I had a loose goal but really just wanted to finish. 🙂
In Tokyo, even if no one else cared, I had high expectations of myself and would have considered it a personal failure if I didn't hit that goal.
But I had a few things going against me with this race.
Pre-race concerns
The Tokyo Marathon was in late February and because Jon and I needed to be back in Seattle in early March, we planned to travel around Japan prior to the marathon (unlike Honolulu where we traveled after the marathon).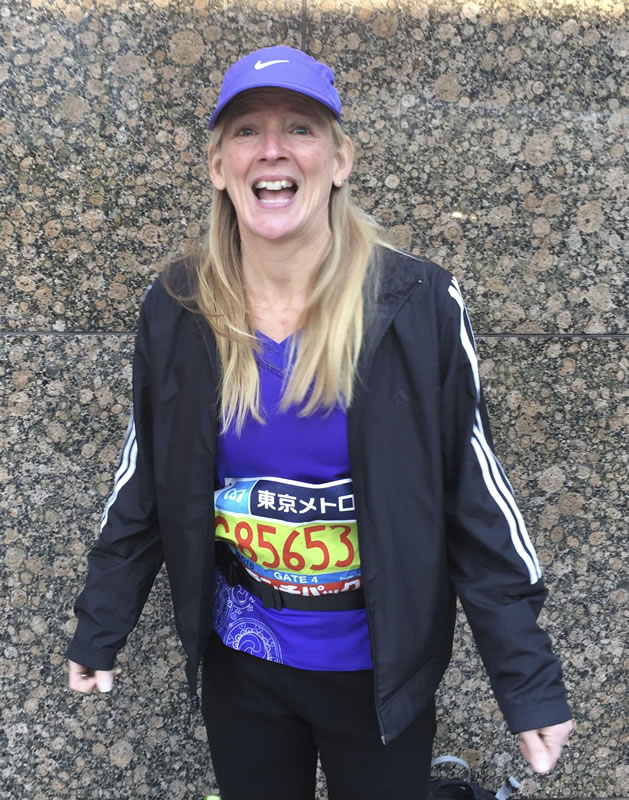 Traveling before running in Tokyo meant that I had to 1) find places where I could train properly in the weeks leading up to Tokyo and 2) find food I could eat to best fuel not only my training runs but also the actual race. As a mostly vegan eater, I knew this might be a potential issue.
As for the training, I wasn't sure what the terrain would be like in some of the areas we planned to visit. I knew we'd be in the mountains at least once which would mean I might not be able to run long distances or do my interval training (runs at a faster pace). It turns out that most of our time was spent in Tokyo (flat) and Kyoto (also flat). The time we did spend in a mountain town, Hakone, we were close enough to a valley that I could double back and forth on a few roads enough to complete my long distances.
As for food, this was a valid concern. I didn't have to worry about avoiding a lot of dairy in Japan as they rarely eat this themselves. But fish is common and while there is tofu, it's often served in fish sauce. While it took more searching, we were able to find markets and a couple of restaurants that offered a number of tofu dishes. When needed, I supplemented with protein bars that I brought with me from Seattle.
Race concerns
As for the race itself, there were a couple of things that were on my mind about running the Tokyo Marathon.
Runners are not allowed to carry in their own bottles of water. I like to have control over my liquid intake and always carry my own Nuun-infused water (for electrolytes) on my long runs. I thought that relying on water stations would totally throw off my time, especially if everyone else was also grabbing water along the way. It turns out that in good Japanese fashion, race organizers had so many stations set up that I never felt like I was slowed down too much.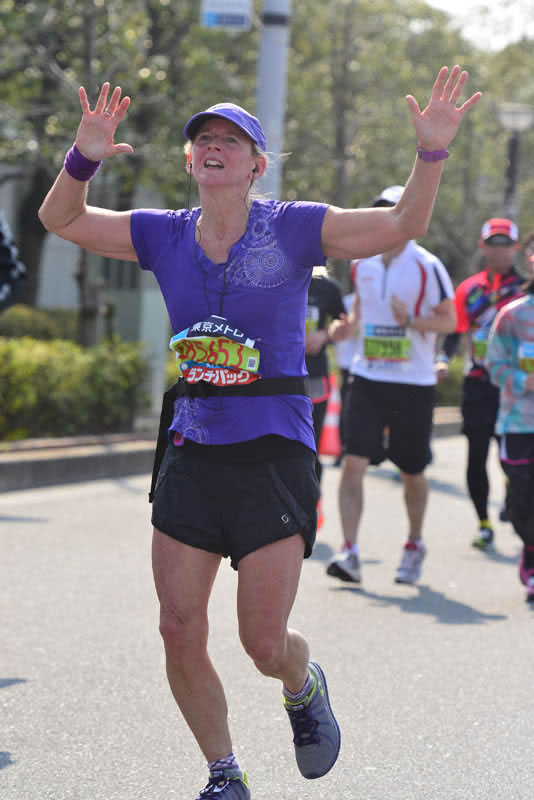 The other issue was that I would be running with approximately 37,000 other runners! I had heard that the first few miles were very slow because everyone would be bottle-necked at the start. It turns out that, again, race organizers had everything under control. People were set up in waves based on their expected race times so I was right in line with the pace of others in my group and never felt like I was slowed down.
Tapping the reserve tank
At the halfway point (13.1 miles), 2 hours and 15 minutes had passed. I knew that I had to keep my same pace or, better yet, speed it up a bit in order to make my goal of 4 hours and 30 minutes. I also knew from hearing stories from other marathoners and also my own experience in Honolulu that things can start to get rough around mile 20.
Good thing I've also heard that when you think you're "done," you still have about 60% left in your reserve tank. And so, during those last few miles when things could have gone poorly, miles when I had to run up and over bridges, when my legs were so tired that even the slightest elevation seemed like a stairmaster on 10, I tapped into at least some of my 60% reserve.
I ran. And I ran hard. I passed everyone ahead of me for at least a few minutes and then I dialed it back. But I kept a strong pace. While most of my miles averaged between 9:40 and 10:08, I ran an 8:00 minute mile at mile 25. That's just crazy talk. But my Garmin GPS doesn't lie (well sometimes it does). Even if it wasn't exactly an 8:00 minute mile, it was quite a bit faster than the other miles and that in itself is remarkable so late in the game.
What did that final push get me? It got me a 4:28:07.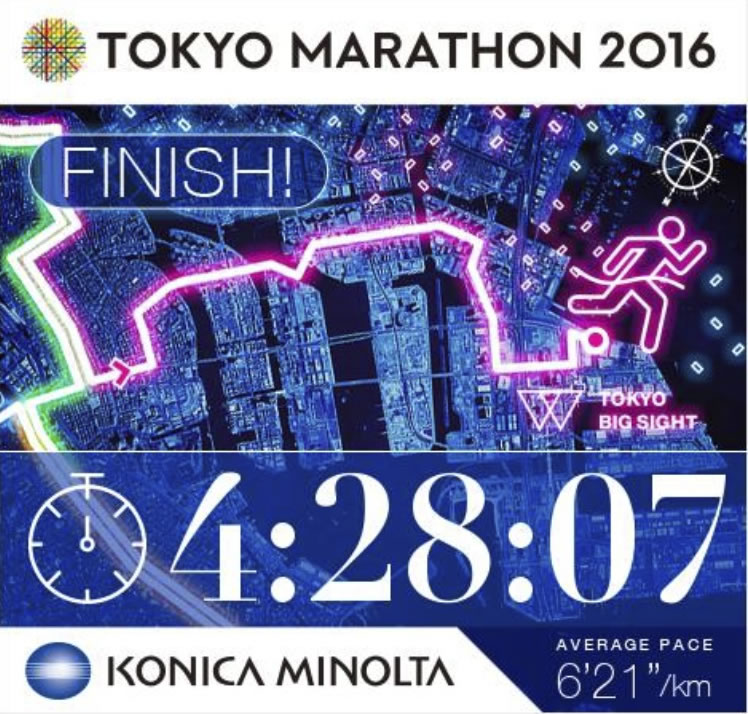 Nearly two minutes shy of my race goal and nearly 11 minutes faster than Honolulu. Whoo hoo!
What next?
Well, I'm actually having a difficult time finding another race that fits in with my travel schedule. I'm considering another full marathon near Portland on July 4th. I'm thinking about the Seattle marathon over Thanksgiving weekend and Jon and I are looking for a triathlon relay where he bikes, I run and…well…maybe YOU'LL swim with us! Never say never.
After all, I always said I wasn't a runner and now look at me!
Be Bold,
Beth
Want to stay up-to-date on all things Wanderlust? Follow me on Facebook, Instagram or RSS/email.