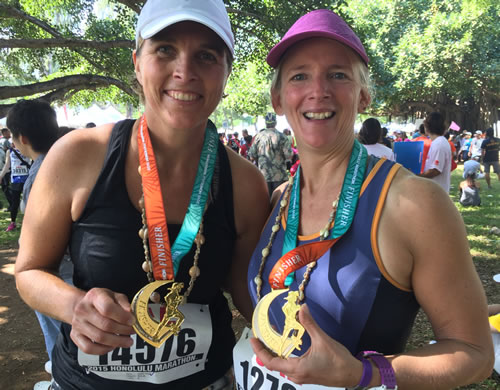 Yeup. I made it!
My friend, Carmyn, also ran the race and (YAY!) she also finished–not too far behind me. 🙂
My time: 4:38:55
That's in the top 10% of all the runners!
A personal record for me. HA HA. My first marathon, so of course it was a PR.
I don't think it's bragging to say I knew I would complete it. I mean, you have to go into something like this with complete confidence, don't you? That's how I knew I would make it through the 25-day Snowman Trek last year. A bit of doubt and your sunk (IMHO).
So, what was it like?

.
.
Well, I have to say I felt pretty well-prepared for the 26.2 miles. I had already run 22 miles during one of my training runs and had also run a number of 16-milers, an 18 and a 20. Not to mention all the interval training which prepared my heart for bursts of faster paces, ultimately helping me to run faster over time and distance (much faster than I could have even six months ago).
My biggest concern going into the Honolulu Marathon was the heat. Training in Seattle in November and early December meant rain. Lots of rain. And temps in the mid-30's. Though the Honolulu Marathon started at 5 a.m., even then the temps were already in the low 60's. By the time I completed the race around 9:45 a.m., it was probably in the low 80's.
According to people I had spoken with who had done the Honolulu Marathon previously, they said this one was really difficult because of the heat and humidity. I looked up the 2014 results and found that about 900 more people had run faster than I did last year than this year. So it makes sense that the heat was what slowed people down so much (last year it rained).
Honestly the heat wasn't as bad as I had expected. I drank lots of water (maybe even too much as I felt a bit of stomach cramping in the last five or so miles) and took electrolytes
throughout the race. I fueled with Gu gels, one serving (100 calories, lots of carbs and sugars) every three miles. And I used the water at the aid stations to cool my neck, arms and head.
While I would have LOVED to clock under four hours and 30 minutes, ultimately I don't think it was the heat that slowed me down. I think the main thing that prevented me from a faster race time was a super long hill toward the end that I wasn't mentally prepared for.
What would I change?
.
Carmyn and I had the foresight to drive the course three days before the marathon. This allowed us to get familiar with the twists and turns. And the hills. There was one hill in particular that concerned us. So we ran it two days prior to the race so it wouldn't be so intimidating on race day.
I was so focused on this one hill, that I totally missed the fact that between miles 17.5 and 22, I would be staring at a steady uphill climb on a long straightaway.
On race day, I had been running at a pretty steady rate until about mile 17.5. But as I started up the hill, the hill that I swear wasn't there when we did our pre-race drive, I began to realize that what I thought was just a long steady stretch was a long steady stretch uphill.
In looking back, the only thing I would do differently would be to drive that road a couple of times and maybe even run it uphill at least once. That would have made it a lot less intimidating. It would have allowed me to take some mental notes on where certain markers were along the road (the big blue house, the gated community, etc.) and have a better handle on how long this stretch was.
It's really amazing how much your head has to do with your success (in running, but also in life) and if you're better prepared for what's ahead of you, you're more likely to succeed.
Support crew

.
Sure, I trained and ran the marathon on my own. But I had a tremendous amount of support from my one-man support crew, Jon.
He has been there for me throughout my training this year. He picked me up at the end of my long runs. He rubbed my feet and calves when I got home from those long runs (and a lot of my short runs, too!). And, he waited for me to finish those long runs on Sundays so we could go out to brunch together (probably the most heroic gesture of all!).
These might seem like minor things but they are a huge deal to me. When you have someone cheering for you from the sidelines before there's even a sideline to cheer from, you know you're in good hands.
Jon had the most fun, however, when he crewed for me and Carmyn during the actual marathon. He rented a folding bicycle, tracked us using the Honolulu Marathon app and raced to catch up with us to deliver ice cold water along the route. He also held up signs to encourage us to keep going.
But Jon wasn't the only one on the sidelines.
Many of you have been following along on Facebook during my training. THANK YOU! I was truly humbled by all the well wishes before and after the marathon. And believe me, I thought of all those comments during those last miles when I started to question what I was doing. I knew there were a lot of people rooting for me and that I better finish because you were all watching!
Lastly, I should mention that there were people lined up on the actual sidelines of the marathon route. The people of Honolulu came out in full force to share their Aloha spirit. They sprayed water on us with the hoses from their homes. They cheered, banged drums, played music and, toward the end, handed out band-aids, bananas and Starburst candies (Note so self: bring Starbursts on your next marathon!). They wished us well and told us when we were two miles, one mile, a half mile from the finish. Thank you Honolulu! I might have been able
to do it without you, but you sure made it a lot more fun.

Where to Stay
.
We rented my friend's lovely AirBnB house with an amazing view of Diamond Head in Honolulu. It was really nice to be away from the downtown area but it was still a pretty quick ride when we wanted to get to Waikiki, Diamond Head or downtown. If you're looking for a place in the city, let me know and I can send you the details because you, too, should stay there. (LOOK >> that's the view you could have!)
What next?
.
On to Tokyo. I'm running the marathon on February 28. 🙂
Stay tuned as I continue my training, figure out how Jon is going to rent a folding bike there, and make sure that I drive the course multiple times as I look for all the twists, turns and hills!
Be Bold,
Beth
Want to stay up-to-date on all things Wanderlust? Follow me on Facebook, Twitter or RSS/email.