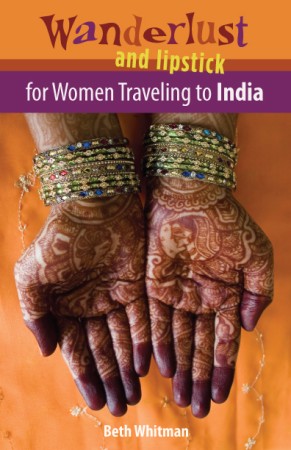 On Sunday, I made The Times of India. How totally cool is that?
I was contacted last week by TOI contributor, Pallavi Srivastava, who had some interesting questions for me about travel to India from a woman's perspective. I had no idea what the angle of the story was to be but it turned out a wonderful piece about the changing state of traveling to India for foreign women. Pallavi found me because of my book, Wanderlust and Lipstick: For Women Traveling to India.
But, not to be overshadowed by the Times of India article, I have had a lot of great shout-outs from some online sources in the last few weeks.
Pam over at Nerds Eye View and BlogHer ran a thoughtful Q&A with me. I contributed 6 Great Tips for Women Traveling to India for Kristy over at HotelClub Travel Blog. And, Kristy chose some amazing photos (unfortunately not mine) to accompany the article. Leyla, from Women on the Road, also ran a Q&A recently based on my 20 plus years of travel experience. And did I mention Diane Daniels' post on the Boston Globe about the India book?
Thanks, gals, for being so supportive, doing what YOU do, and knowing the value of supporting the women's travel market. We ROCK!
Oh, and I've also done several online radio interviews and will be posting those shortly for your listening pleasure.
Travel Well!
Beth
Related links:
Beth's Audio Interviews
Book Reviews – Essential Guide for Women Traveling Solo
Wanderlust In the News
Read my travel blog on at the Seattle Post Intelligencer.
Join other Wanderlusters and help make this the most popular women's travel blog by subscribing via email or RSS feed.
You can also add this article to popular social networking sites by clicking on the buttons below.