If you're still looking for some last minute gift ideas for the traveler in your life, or need a little reading material over the holidays, consider one of these books. These are some of my top picks from 2008.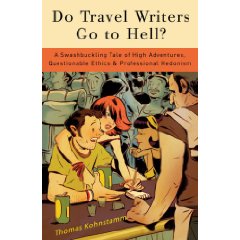 Do Travel Writers Go to Hell? by Thomas Kohnstamm – This is tops on my list because it's the most recent book I've read. Written by a (former) Lonely Planet guide writer, it's an irreverent look at the world of travel writing. Thomas writes about his experiences in Brazil while writing that country's guidebook. It includes sexual escapades, drugs and in-office research. Simply shocking!
A Thousand Splendid Suns by Khaled Hosseini – One of the saddest books, perhaps THE saddest book I've ever read. But incredibly insightful with regards to how women are treated in Afghanistan. It also provides excellent insight into how the country has changed over the last 30 years or so.
Beyond the Sky and Earth by Jamie Zeppa – A beautiful book about one woman's time in Bhutan. Jamie gently carries you along with her as she experiences everything from culture shock to love in this Himalayan Kingdom.
How to Shit Around the World by Jane Wilson-Howarth – You'd think this would be a simple topic – something we could all figure out on our own. You'd be surprised, however, at just how much great information is packed into this guide to toilet-issues around the globe.
Swahili Chic by Bibi Jordan – I saw this book displayed at the this year's Book Expo of America. I stopped dead in my tracks because of the beautiful cover and then discovered that the images throughout the book are just as stunning. The book explores East Africa's diverse culture, architecture, history and traditions through stories and photos. It's an excellent coffee table book whether or not you have a love of Africa.
All for now. Check back in 2009 for additional book, product and music recommendations!
Travel Well and Happy Holidays!
Beth
Related links:
WanderGear: Travel Clothes Roundup
WanderGear Reviews
WanderGear: Gift Gadget Roundup
Wanderlust and Lipstick Gear on Cafe Press
Read my travel blog on at the Seattle Post Intelligencer.
Join other Wanderlusters and help make this the most popular women's travel blog by subscribing via email or RSS feed.
You can also add this article to popular social networking sites by clicking on the buttons below.