There aren't a gazillion books about the country, but if you're looking for the best books on Burma (Myanmar), this list is a good starting point.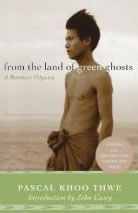 From the Land of Green Ghosts
by Pascal Khoo Thwe
One of the best accounts (a true memoir!) I've read from a guerilla fighter who flees Mandalay and takes up arms against the government in the late 80's. The book has a wonderful happy ending as he is "rescued" and ends up attending Cambridge and, of course, writing this book. But it's a pretty amazing journey that the author takes and very insightful in terms of how the regime in Burma has been so brutal to its own people. Published in 2003. Find it on Amazon.
*****
Lonely Planet Guide to Myanmar (Burma)
Myanmar is still way early in its tourist development for it to warrant the publication of guidebooks from several publishers, so, for now, the Lonely Planet guide is your best bet. Like all the LP guides, this one provides a lot of historical and cultural background, maps as well as suggestions for hotels and restaurants. Be forewarned, however, that things are changing so rapidly in Myanmar that you're likely much better off researching hotels and restaurants online. Published in 2012. Find it on Amazon.
*****
Finding George Orwell in Burma
by Emma Larkin
Using George Orwell as her figurative guide, Emma Larkin (a pseudonym) travels through Myanmar for a year, following in the footsteps of Orwell (whose mother was born in Burma). She gets underneath the surface of the smiling faces of the Burmese people to find the pain left from years of their regime's brutality. Published in 2006. Find it on Amazon.
*****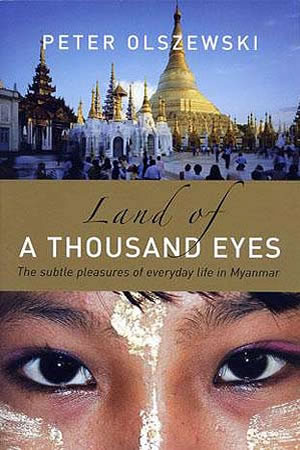 Land of a Thousand Eyes
by Peter Olszewski
This story is the personal journey of the author who spent 18 months living and teaching English in Yangon. It definitely doesn't have the political insight that other books about the country have but if you're looking for information about the culture, you'll find some interesting observations and a different perspective in this book. Published in 2006. Find it on Amazon.
*****
River of Lost Footsteps
by Thant Myint-U
Written by a senior officer at the U.N., this book provides historical background on the country but also makes it quite personal. The author includes stories about his own family as well as many others. Published in 2008. Find it on Amazon.
*****
Letters from Burma
by Aung San Suu Kyi
From Nobel Peace Prize winner Aung San Suu Kyi, she shares her thoughts on every aspect of Burma including the landscape, military, people, religion, politics and more. Published in 2010. Find it on Amazon.
*****
And one great movie!
Burma VJ: Reporting from a Closed Country
by Anders Østergaard
Fantastic documentary about the uprising in 2007 when Buddhist monks led a rebellion in Yangon. This film was nominated for an Academy Award and is another very insightful look at how repressed the country has been  but also provides an eye-opening look at the commitment by the people to make change happen – at all costs. Published in 2010. Find it on Amazon.
*****
If you're considering a trip to Myanmar, check out our itinerary for later this year. We have a women-only tour to Burma in November. Last year's tour sold out so don't wait to register if you want to secure your spot.
Travel Well!
Beth
Related links:
Best Books About India
Best Books About Bhutan
Best Books About Papua New Guinea